Students all return to Lima from service assignments
Thursday and Friday, Nov. 24-25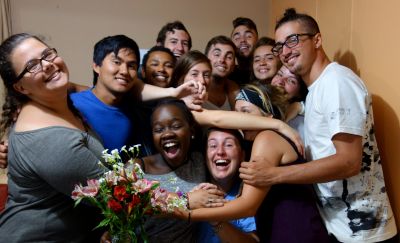 All the students have safely returned from their service assignments back to Casa Goshen in Lima.  Each group warmly welcomed the other groups, with many accumulated stories of trials and tribulations being shared.
Although Thanksgiving was actually on Thursday, we waited to celebrate until Friday evening when everyone was here.  Our cook, Alicia, prepared turkey, mashed potatoes, green beans, salad, and applesauce for the feast.  Before digging in, everyone took turns sharing what they were thankful for at this moment, and that took no short amount of time to do.  After the meal we had a surprise birthday cake for Achieng, whose birthday happened while everyone was separated on service.
Tomorrow morning students will visit their families in Lima, and then we'll leave for a 2-day retreat to process the last 3 months and prepare for the return to the U.S.