Service visits in Arequipa: Brad, Achieng and Lane
Thursday – Friday, Nov. 3-4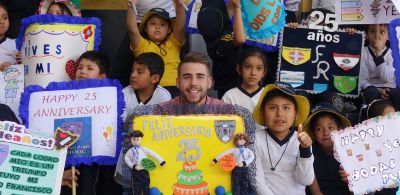 Arequipa, the second-largest city in Peru, is home to 3 students for their service placements.  Located in southern Peru, it sits in the middle of a desert, making the air very dry, but at an altitude of 7,700 feet the climate is just right: warm, but not hot.  It's often known as the "white city" because of a common white volcanic stone used in many of the oldest buildings.
On Thursday we visited Brad at his home for lunch and met his parents, including his father Julio who was a great conversationalist.  Later Brad took us to an old colonial building downtown where he works for a Catholic charity that runs an after-school program for children from low-income families.  He works with about 50 students, helping serve food, assist the children with their homework, and doing some English instruction.
Supper that night was with Achieng and her family, including her mother Dolly, father Juan Carlos, brother Johaquin, sister Valentina, and an uncle.  The following day Achieng took us to the hospital where she works in several capacities.  On Mondays, Wednesdays and Fridays she works with a doctor, assisting during consultations and checking on patients.  On Tuesdays and Thursdays she works in the "Topico" ward helping take patient histories, weights, temperatures, etc.  Her favorite work is with the babies that come to the hospital, and her dream experience was to see a birth before her time there ended (and this happened a week later).
Our visit with Lane began at his school, which, as we arrived, was lining up all the students for a parade around the neighborhood to celebrate the school's 25th anniversary.  The non-denominational religious school is named after a prominent Protestant business leader who had made significant inroads for the acceptance of Protestants in the predominantly Catholic city.  In preparation for the big march the children had made a variety of posters and banners.  Once the kids returned to the school, classes began again, and we got to see Lane in action, teaching English in one of the classes.