Homeward bound: Students leave Peru
Goshen College students returned from their concluding retreat at the beach south of Lima late Sunday afternoon (more about that in upcoming posts) and arrived back at Casa Goshen for two hours of final preparations. They discarded unwanted items, repacked their belongings – and made sure their suitcases weighed less than 50 pounds (the airline limit). They then had some precious moments to relax and have fun before their overnight flight to the United States.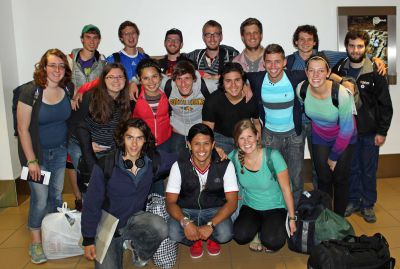 First, though, they had a delicious meal of vegetable soup, Peruvian aji de gallina (shredded chicken in a mild chili sauce over rice and potatoes) and a fruit juice blend, all prepared by Alicia Taipe Tello, our excellent program assistant. Next, they enjoyed a delicious chocolate tres leches cake to celebrate Brody's birthday, which occurred while he was on service in Oxapampa. Students joked and spoke excitedly about their upcoming reunions with family members and friends.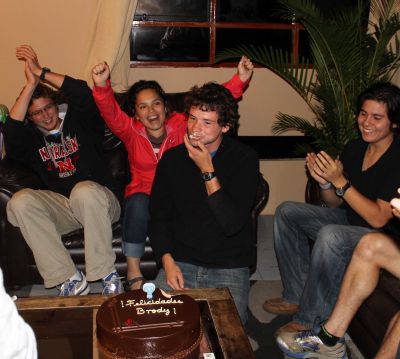 At 7 a.m., Leah departed for the airport with Peru SST Study Coordinator Celia Vasquez. Leah is headed to Paraguay to visit relatives. At 7:50 p.m., the 17 remaining students carried their suitcases and backpacks down from the fourth floor apartment to the courtyard below and then to the street to a waiting bus, which soon departed. Traffic was extremely light so the trip to Lima's Jorge Chavez International Airport took a rapid 26 minutes on a cool and overcast night.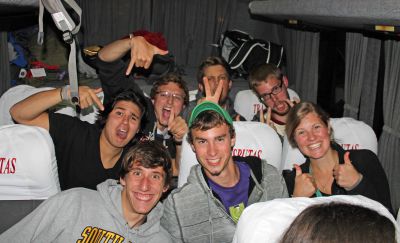 After arriving at the very busy airport, the students got in line to check in for their United Airlines flight to Houston, Texas They checked their luggage (all made the weight limit with some quick shifting of items) and got boarding passes. The students then headed upstairs to their departure gate, changed some money and posed for final group photo. Peru SST Co-Directors Richard R. Aguirre and Judy Weaver hugged each student and said our goodbyes. Within a few minutes, the students disappeared into the security screening area, about 9:30 p.m.
The students' flight, a Boeing 767-300 jet, left Lima seven minutes behind schedule – at 11:57 p.m. – en route to George Bush Intercontinental Airport in Houston, Texas. From there, the students were scheduled to catch a connecting flight to O'Hare International Airport in Chicago. If the connecting flight lands on time and the weather and traffic are reasonable, the students were expected to arrive back at Goshen College, by bus, about 4:30 p.m.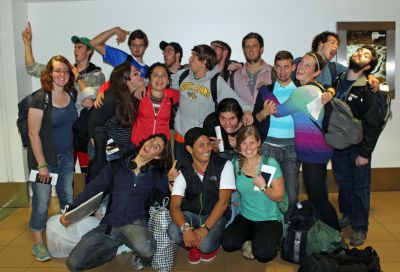 While they have left us, this group of students – whom we have decided to call the "Excellent 18" – grew very close to us. We will greatly miss Alejandro, Andrew, Brian, Brody, Derek Peter, Derek William, Edith, Emma, Jaime, Joel, Leah, Lucas, Matt, Michael, Miranda, Sierra, Stefan and Tim. And we wish them the best as they return to their families and friends. It has been a privilege and joy to serve as their directors.