Meeting the host families
Goshen students met their Lima host families on May 2 after a full day of orientation, an enjoyable tour of downtown and two nights in the Cirque Hostel. The students prepared for the important meetings by reviewing information about their families, including the locations of their homes, and studying (and practicing) Peruvian greetings and farewells.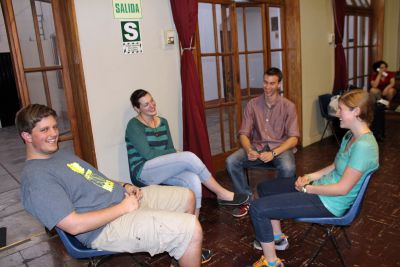 Parents began arriving soon after the bus delivered us to the Buen Pastor Church. Students quickly gathered their belongings, posed for quick photos and then departed into the autumn dusk.
As the remaining students waited for their families in the main hall of Anglican Cathedral of the Good Shepherd (Buen Pastor), some conceded that they were a bit nervous. Others wondered what their new families and homes would be like or worried they might have trouble communicating. Such concerns quickly dissipated as the family members arrived for the students, prompting a final round of smiles, handshakes and warm embraces.