On their way to Peru: Students depart Goshen
While much of Peru (and Goshen slept), the 18 students comprising the Goshen College Peru Study-Service Term unit for Spring 2014 said goodbye to family members and friends and began their journey to Lima, Peru on Wednesday, April 30. There were smiles of excitement but also tears as a crowd gathered in the Union building to bid farewell to students headed to both Peru and Nicaragua.
Goshen College Director of International Education Tom Meyers said the crowd was large, considering that it was 4 a.m., and that all were in good spirits. Best of all, the bus departed on time, at 4:30 a.m.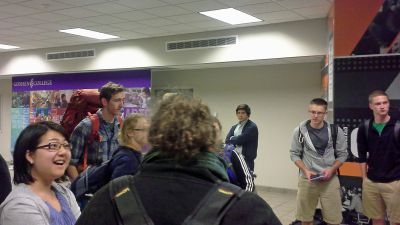 Deanna Risser, GC's assistant director of Institutional Research and Budget and Financial Reporting manager, provided this report on the departure:
"I haven't been to a SST departure before, but I think this one was pretty normal. Everyone gathered at the south side of the Union. The large GC bus (with 'Goshen College' on the side) pulled in around 4 a.m., and students loaded their suitcases on the bus, then joined family members, friends and other students to say their last goodbyes inside. Lots of hugs and a few tears.
"Tom called everyone outside around 4:15, and had the two SST units create separate circles, after which (Minister of Worship) Gwen Gustafson Zook led in a blessing and sending prayer, reminding the students that they were not alone in their upcoming experiences, but could count on group members to laugh, cry and experience the next three months with them.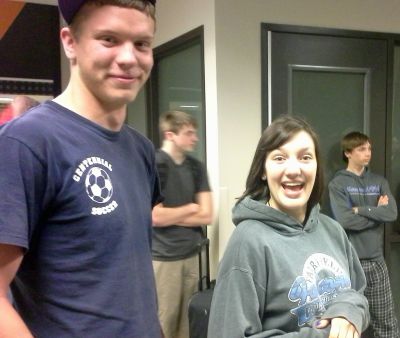 "After this, the students slowly loaded the bus after a few more goodbyes and hugs. The 40 students (22 Nicaragua, 18 Peru) filled the bus nearly to capacity. Tom got on the bus and gave final instructions and pass out travel envelops. As a part of this process, it was discovered that one student was not on the bus, but he was quickly called out of the crowd and finally got on the bus. (I think it was a Peru student, I didn't recognize him). The bus pulled out promptly at 4:30 a.m. to cheers and waves, on it's way to O'Hare.
"The temperature was in the low-50s, with no rain and wind like we had experienced yesterday.  Quite balmy considering our cool spring and expected temps for the next few days; a beautiful morning. I am not good at estimating crowds, but I would guess there were about 75-80 people there, including the students."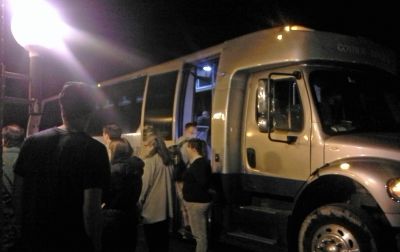 We are grateful for the reports from Tom and Deanna. And we are excited the students are on their way to Lima!
– By Richard R. Aguirre and Judy Weaver