What joy! Home again at last!
Members of Goshen College's Peru Study-Service Term unit for Spring 2014 arrived back in the United States on Monday. One student, Malaina, left the group in Houston, Texas – the group's point of entry to the United States – and traveled on to join her parents visiting Florida. Two other students, April and Derek, left the group in Chicago. The remaining 12 students arrived in Goshen Monday evening – 24 hours after starting their journey home in Lima.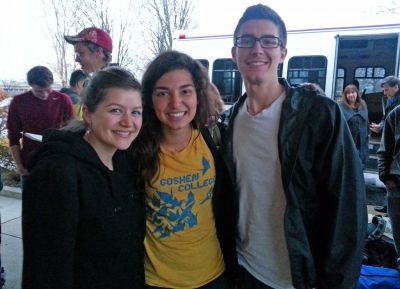 Students enjoyed a joyous welcome from family members and friends. Aimee, Caleb, Dean, Gina, Gretchen, Jackson, Jake, Jonathan, Maria, Natalie, Neal and Thomas arrived at the Union Building by bus about 8 p.m. In an email today, Gretchen described the welcome: "We all yelled out when we saw the Goshen signs. There were probably 35 people waiting there for us, which was great considering how late we were. Lots of yells and joyous cries, tons of hugging!"
The students had begun the trip home about 8 p.m. Sunday, with a bus trip to Jorge Chavez International Airport in Lima. Flight 855 from Lima to Houston, Texas left the gate at 11:41 p.m. Sunday – nine minutes earlier than scheduled. The flight arrived at George Bush Intercontinental Airport at 6:08 a.m. The connecting flight to O'Hare International Airport in Chicago arrived about 1 p.m. The bus had some difficulties, which delayed leaving O'Hare. The students also had a meal en route to Goshen, but they eventually arrived safely on campus about 8 p.m. – tired but very happy.
During the students' long journey home, Director of International Education Tom Meyers kindly provided email updates to Peru SST Co-Directors Richard R. Aguirre and Judy Weaver. Tom's final update brought us great joy: "They are here. Happy to be home in spite of the rain and cold."
We thank God that the students arrived home safety. We will cherish our time with them and wish them the best as the readjust to life in the United States.