Serving and learning from Lima's poorest residents
Goshen College students recently visited Villa María del Triunfo, a southern district of Lima founded 52 years ago by migrants who "invaded" the area and built homes on the coastal sands. Villa María is home to more than 360,000 people, many of whom struggle with underemployment, poverty and malnutrition. It has been estimated that one-third of the residents lack electrical service and more than one-fifth lack running water.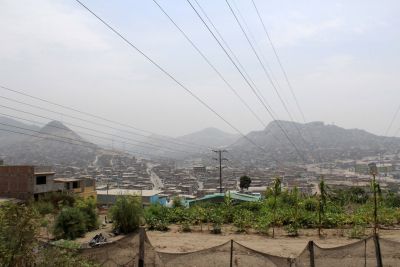 To help relieve hunger, improve diets and provide additional income, the municipality, aided by an international non-governmental organization, has started biohuertos, or urban community gardens, for residents. We visited "Machu Picchu", a garden maintained by a dozen families. The gardening program uses vacant land underneath power lines, donated by the electric company. Before the gardeners cleared the land, local residents used it as a garbage dump.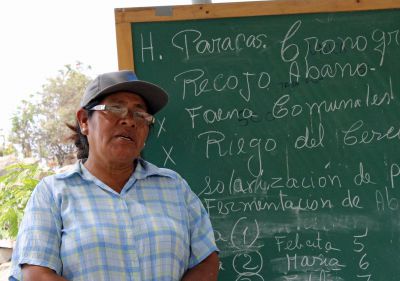 Señora Gregoria Flores, who helps coordinate the program, said families have learned how to cultivate gardens despite poor sandy soil and limited rainfall. Using compost, a drip irrigation system and many hours of patient work, residents have learned how to grow abundant vegetables and fruit without using any insecticides or herbicides. Besides improving their diets, the surplus organic produce is sold at local farmer's markets, thus supplementing meager family incomes.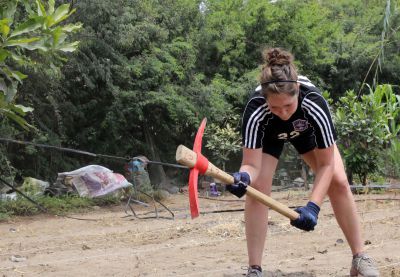 Students spent a morning preparing three plots for replanting by turning over the earth with pick axes and shovels, adding compost, and blending it into the sandy soil. They also pulled weeds and covered portions of a garden with plastic sheets to kill weeds and sterilize the soil. Assisting in the work was Maria Sanchez Schirch, assistant Spanish professor at Goshen College, who was in Lima for a research project.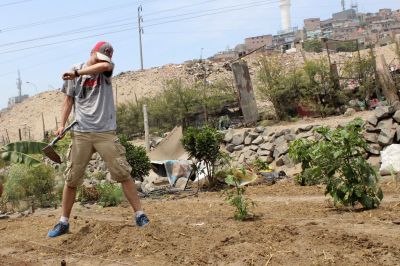 The work was hot and difficult because the soil was compacted and very dry, but it was a labor of love because students were preparing gardens for three women who were either too disabled or too busy to do the work themselves.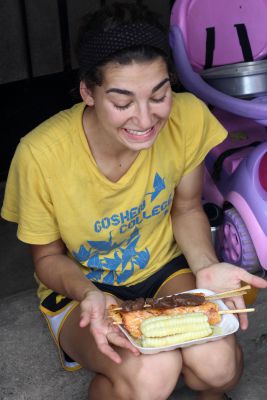 After washing up, students went to the nearby home of Alicia Taipe Tello, who prepares meals twice per week for students. They enjoyed a delicious meal of barbecued anticuchos (skewers of beef heart and chicken), potatoes, corn on the cob and chica morada, a delicious traditional juice made of boiled purple corn, pineapple juice and spices. They also engaged in some pre-Lenten carnival frivolity – tossing water and talcum powder on one another.
Later in the day, students traveled to the adjoining district of Villa El Salvador to visit the community of Chavín de Huántar. While residents have obtained electrical service, and some have concrete floors and wood or brick homes with roofs, they still lack paved roads, and are just getting sewer and water service. Most residents have paid inflated prices for water – and sometimes wait days for a delivery.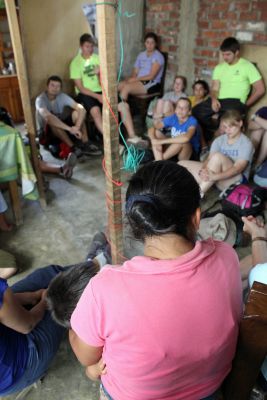 Students crowded into the tiny home of Corpusa Villavicencio Zela, a 37-year-old mother of four who was part of a group of 2,000 homeless people who squatted on the privately-owned land that has become Chavín de Huántar. She recounted the economic pressure that forced her to leave her highlands community at age 13 and to seek a better life and secondary school education in Lima.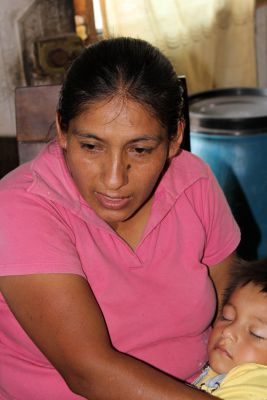 In 1999, Corpusa and her husband joined others who "invaded" a vacant piece of land in hopes they might someday win the right to stay permanently. They divided the land into lots, each about 20 feet wide and 33 feet long, and laid reed mats on the sand and stayed. They endured extreme temperatures and insect bites and held the ground, even when repeatedly evicted by police. Eventually, residents replaced plywood shacks with more permanent structures, added metal roofs and concrete floors and obtained electrical service.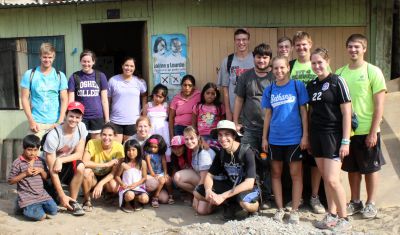 Although 600 residents finally won the titles to the land in Chavín de Huántar two years ago, life is a continual struggle, Corpusa said. Her husband works from 6 a.m. to 11 p.m., six days a week, and the family cannot afford to hook up to the new sewer system or any future water service. Still, she has hopes her children will graduate from high school and get good jobs.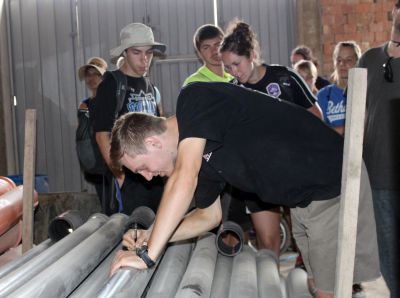 While visiting Corpusa, a community leader dropped by and explained efforts to install water and sewer systems. After hearing from the leader, Raul Paredes Flores, students and Peru SST Co-Directors Judy Weaver and Richard R. Aguirre decided to contribute funds to pay for one plastic water pipe for the residents. Paredes showed students a storage shed with the pipe and other construction material. The directors and students selected a pipe to donate and each used a pen to write message – a way to leave behind a small part of ourselves to people who need the encouragement and support.