Thanks to God: A safe arrival in Peru
They are here – tired, excited and somewhat overwhelmed. United Airlines Flight 1095 arrived safely and early from Newark, N.J.; it touched down at Jorge Chávez International Airport in Lima at 10:02 p.m. Wednesday night (Jan. 8). The students were delayed in customs and immigration because the luggage of two students (Derek and Jackson) was left behind in the United States (it's due to be delivered in the next day or two). Eventually the 15 Goshen College students made it out and gathered for the traditional group photo.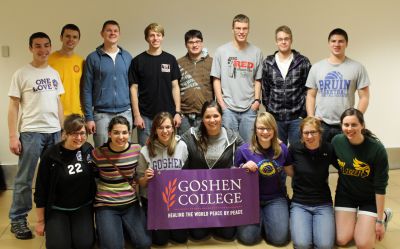 Accompanied by SST co-leaders Richard R. Aguirre and Judy Weaver and Celia Vasquez, our Lima study coordinator, the students then stepped outside to a big surprise – light but steady rainfall, a rarity in Lima. Still, they relished Lima's 70-degree temperatures – a sharp contrast to Goshen, which has had several days of sub-zero temperatures.
The students then boarded a bus for what turned out to be a speedy 30-minute journey on nearly empty streets to Miraflores House, their hostel and home for the next two nights. On the way, students got bottled water, packets of cookies and a bar of Sublime, a delicious Peruvian chocolate bar. Still, by the time they arrived at the hostel at 1:10 a.m., they appeared bone weary and ready for bed; they had been on the road for 23 hours.
On Thursday, the students will take a walking tour in MIraflores, participate in orientation at Casa Goshen and enjoy a picnic and visit to the beach. But for now, it's lights out and time to rest. Gracias a Dios, los estudiantes están aquí y están bien (Thank God the students are here and are well)!