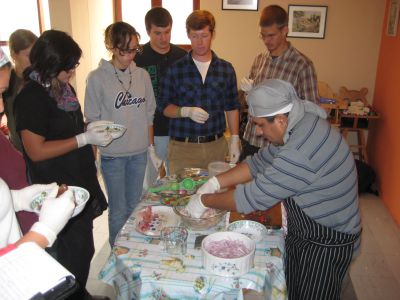 Even if the SSTers were able to try a different Peruvian dish for each breakfast, lunch, and dinner of their semester here, they'd still miss many of the country's hundreds of traditional offerings. Peru is known in culinary circles for its tasty diversity, and gastronomic tours here have been gaining in popularity.
We recently were treated to a behind-the-scenes look at (and taste of) two of the county's most distinctive dishes: ceviche and panchamanca.
Ceviche is fish that's been "cooked" in lime juice rather than with heat and seasoned with ají (Peruvian hot peppers), onion, and cilantro. Our guest chef, Glicerio, showed us how to cut the fish, how long to mix it with lime juice (1 minute for rare; 5 minutes for well done), and how to properly garnish it with sweet potatoes, lettuce, and corn. Then the SSTers stepped up to the cutting board to prepare lunch for themselves. The results were gobbled down with gusto, and followed up with a tasty "refresco" of homemade maracuya (passionfruit) juice.
While ceviche is part of the coastal cuisine, pachamanca come from the highlands. The dish of meat and vegetables is cooked underground with heated rocks. Our pachamanca team was headed by Alicia Taipe Tello, who was assisted by her husband, Oswaldo, daughter Sara, and granddaughter Natalie. They prepared a feast of chicken, pork, potatoes, sweet potatoes, lima beans, and sweet corn tamales. We watched as they dug a pit, built a fire, heated rocks, then arranged the food on top. The "oven" was insulated with herbs, corn husks, a tarp, and finally, completely covered in dirt. After an hour, they unearthed a surprisingly tender and well seasoned lunch, and the group spent most of mealtime plotting and planning to recreate their pachamanca experience once they return to Goshen.
Peruvian ceviche
1 serving

use either swordfish or halibut, not previously frozen, if possible
cut about ¼ lb. of fish into small, 1/2" piece cubes
place cut-up fish into a small bowl and sprinkle with a pinch of  salt, white pepper, and a small handful cilantro
blend small amount of hot pepper (ají) and add to fish mixture (more for spicier ceviche).
squeeze 4 (or more) key limes over fish mixture
add a few tablespoons of water
mix well; continue mixing for several minutes (5 minutes is well done).
Garnish with:
thinly cut ¼ of medium red onion, rinsed several times in water
Presentation:
on a small plate, mound  "cooked" fish on lettuce leaf  in center
add strips of onion on top/to side
add two slices of boiled sweet potato
add 1/4 cup corn kernels (lightly boiled)
add 1 strip hot pepper
Enjoy!