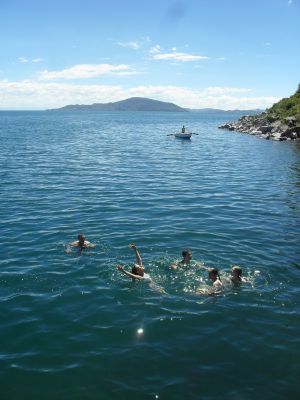 When we realized the railroad to Machu Picchu would be closed this season due to heavy rainfall and flooding, the students and directors began discussing alternatives.  We immediately reached a consensus.  If we couldn't visit the capital of the Inca Empire, we would instead visit the legendary birthplace of the first Incas and the center of the Andean World:  Lake Titicaca.
Not only did we learn a lot about the past during the last week of the term, but our trip to the highest navigable lake in the world gave us a chance to experience living culture among people who still practice their traditional customs.
Here are some highlights:
Arriving in Arequipa, the "white city", known for its grand colonial buildings constructed of sillar, an ash-colored stone produced by the eruption of Misti and other nearby volcanoes
Gazing into the face of Sarita, a 500-year old human sacrifice preserved by freezing temperatures atop Mount Ampato and now living in a climate-controlled museum in Arequipa
Mounting a bicycle at 4,910 meters (16,108 feet) and cruising down to the village of Chivay — a 1,200 meter drop in 20 kilometers that produced an average grade of 6% — fast and fun
Soaking in hot mineral springs afterward
Hiking along the rim of Colca Canyon — deepest in the world — watching Andean condors soar overhead.  The wings of adult condors span more than 10 feet
Viewing herds of llamas and alpacas tended by families in the rugged altiplano (high plain)
Seeing hundreds of vicunas, wild cousins to the domesticated llama, as they grazed and ran in a protected reserve
Riding in tricycle taxis from our hostel down to the port
Greeting residents of the floating islands of Uros with Aymara phrases:  Kamisaraki (good day) and Waliki (response)
Paddling a reed boat from one floating island to another
Spending the night with families who dress and live according to local customs on Amantani Island (no cars to watch out for when you cross these streets!)
Learning how residents of Taquile Island reveal their marital status through the color and placement of their hats and belts while
Devouring plates of fresh trout
Plunging into the clean, cold waters of Lake Titicaca.  At a water temperature of 8 degrees Celsius (46 Fahrenheit), the swim was short but sweet
Relaxing in the warm sun as our boat returned to the port in Puno ("resting place" in Quechua).
Many thanks to our guide, Pepe Pedro, for offering us a trip that was as adventurous as it was educational.