A Student's Reflection from the Yurac Yacu Community
"Colores en Casa" by Julia Baker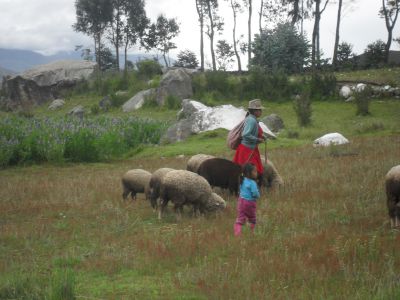 Standing on the corner of Arequipa and Angamos, I see her,
A splash of color against the gray.
Hot pink, orange and blue, skirt fanned around her knees.
A woven manta, heavy with child, crosses her shoulders.
In her hands, the bottom half of an empty Inca Kola bottle, her begging cup.
Looking out across the meadow, I see her,
A rainbow at home against the green fields.
Sheep, cows and children flock around her.
A striped manta, full of herbs, luisa, anis, balanced on her back.
In her hands, the mano of her totting child.
Sitting on the combi, I see him,
Eyes glazed over, he looks at buildings blur by.
Wrinkled hands rest in his lap, fingering his boleto.
A weak voice in a thickly accented castellano, he says "baja".
Ambling down Javier Prado, he is perdido.
Walking down the dusty mountain path, I see him,
Eyes sparkling, reflecting the blue sky and mountain sol.
Worn but strong hands grip his burro laden with wood.
"Buenos Dias, Senorita," he greets me, voice with a smile.
Walking down the road, he is home.