Service visit to San Antonio Sur — Amy and Jen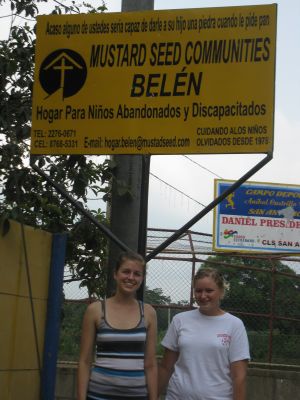 After visiting with Kat and Breanna, we continued about 30 minutes north to a barrio just outside Managua called San Antonio Sur where Amy and Jen live.  They work at Hogar Belen (Bethlehem Home), an orphanage for children with disabilities, a ministry of Mustard Seed Communities. Hogar Belen currently houses 22 children, although 5 new children were scheduled to arrive the day we visited.  All children are referred to the orphanage through the ministry of health.
Amy and Jen help out wherever needed in the orphanage, which can include supervising children in the "ranch" (enclosed play area), helping with snack time, pushing the swings for hours on end, and occasionally helping Gretel, the physical therapist.  Jen and Amy are enjoying their time helping out with these children, and are realizing that even though their work can seem insignificant at times, being with the children and seeing their smiles is reward enough for them.
Jen and Amy live within walking distance of Hogar Belen and each other, and walk home for lunch with their host families every day.  They usually arrive at work around 8:30, take a break from 12-2 for lunch, then return until approximately 5pm.  Even though they are technically on the outskirts of Managua, it feels like a very rural location with smaller, more primitive homes, and dirt roads.