Final Retreat – Playa El Coco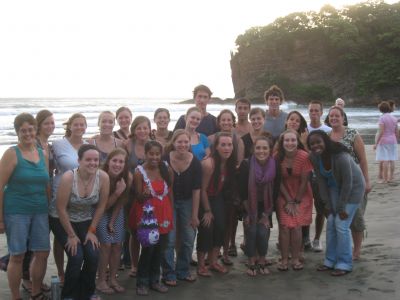 On Friday morning students said a final goodbye to their host families and loaded all their luggage on the bus.  There was a lot of conversation as students continued sharing their service experiences with each other.  We started the 2½ hour journey south to Playa El Coco, 17km south of San Juan del Sur.  Due to a dryer rainy season, we had no problems getting to the beach as two of the three rivers we needed to cross were dry.  We enjoyed a lunch with the sound of the waves crashing behind us and then finished up project presentations in the early afternoon.  The rest of the afternoon was spent relaxing on the beach and playing in the water.  After a beautiful sunset, we spent some time reflecting on the SST experience and our expectations for going back home.
Friday night included a late-night trip to the Wildlife Refuge La Flor to search for turtles coming to the beach to lay their eggs.  There are eight different turtle species that come to the beach, and all are endangered.  Worldwide, there are only seven beaches where these turtles will lay their eggs, with two of these beaches located in Nicaragua.  We were fortunate enough to see two turtles, but the camera flash disturbs the turtles so we were unable to get pictures.  We also enjoyed lying on the beach and looking at the stars.
Saturday was a day filled with sharing stories and relaxing on the beach.  In the evening, we celebrated three birthdays -Breanna, Dalena (our in-country assistant), and Julio (our ayudante).  In order to celebrate Nicaraguan style, Kyle made a piñata for us.  He used extra glue so that it would survive several students.  It was very sturdy because after breaking the rope that it was hanging on and the stick, students found a log on the beach to get it open.  Eventually all the candy came falling out and students scooped up what they could.
Back in April, the active volcano that we were planning on visiting erupted and closed the park.  The park reopened several weeks ago, so we stopped by on our way to Managua on Sunday.   Several students enjoyed a short visit into a cave to see some fruit bats, while others continued exploring around the volcano crater.   After a typical lunch, we unloaded all the luggage at Quinta Shalom on the south side of Managua.  We had spent the first two nights here at the very beginning of SST, and the students enjoyed going back to spend their last night here.  We enjoyed worshiping together again and continued sharing reflections about what we have learned here in Nicaragua.