Students complete GC's first domestic SST unit in American Southwest
By Augusta Nafziger '23
Eighteen Goshen College students traveled to the southwest United States this summer to spend six weeks exploring the Navajo and Hopi cultures as part of a new Study-Service Term (SST) unit called Southwest Indigenous Perspectives SST.
Led by David Lind, professor of sociology, and Kendra Yoder, associate professor of sociology, the unit departed Goshen on June 15 and returned July 26.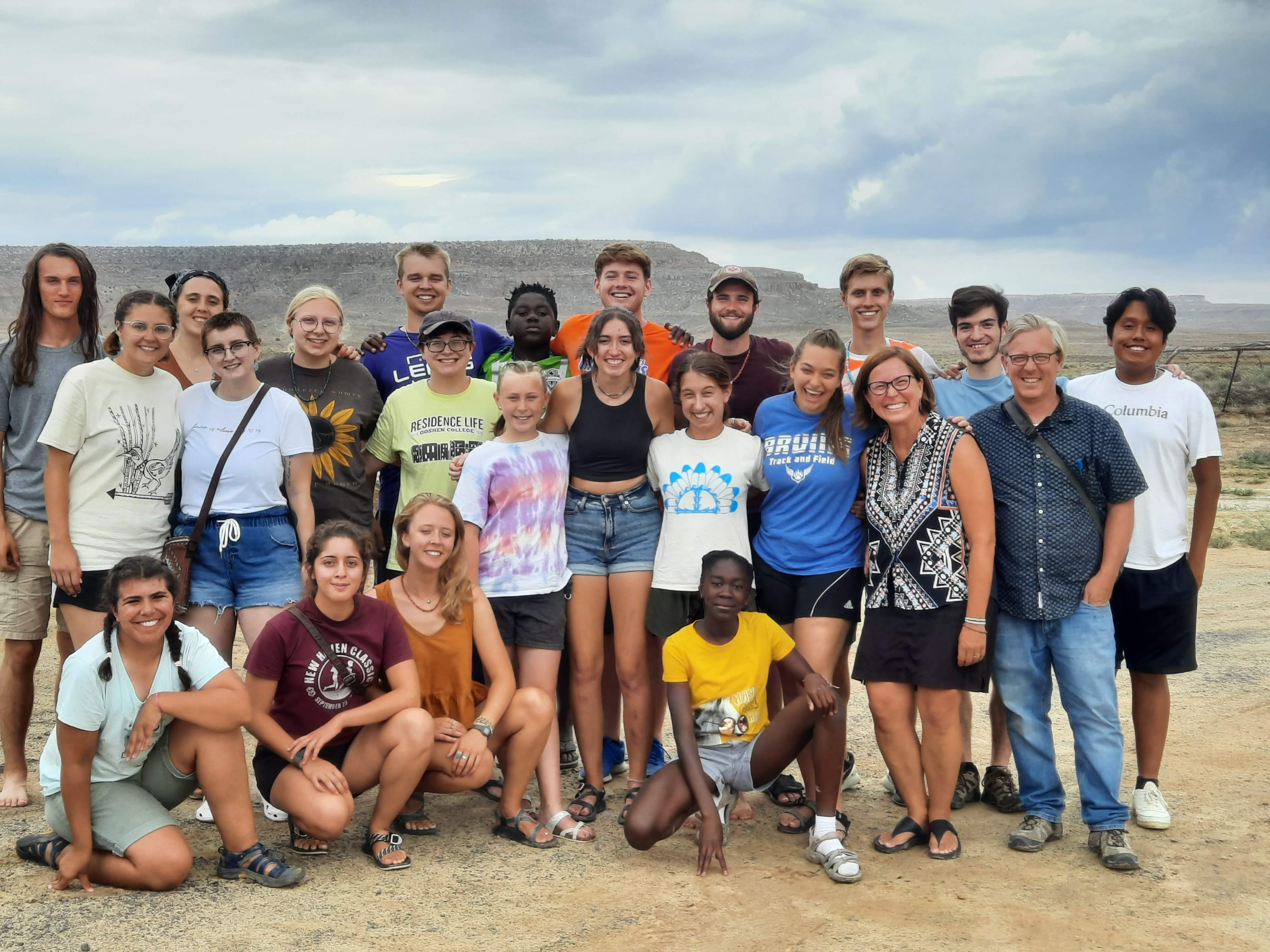 Why the Southwest?
"We actually got the idea for this and started planning it pre-pandemic," said Jan Bender Shetler, director of international education, who played a large role in organizing the first Southwest Indigenous Perspectives SST.
Before COVID-19, the college had planned to begin offering two off-campus immersive courses in the southwest, hoping to appeal to students, such as student athletes, who might not be able to travel abroad for SST.
However, when COVID-19 led to the cancellation of the international SST units in Ecuador and Senegal, the planned off-campus courses became the inspiration for an alternative SST experience for students who still needed to complete their international education credits.
"When we needed to cancel Ecuador and Senegal… we were thinking, ok, what are we going to do with students who really need this summer credit for SST?" said Bender Shetler. "So we decided to expand those two off-campus courses and make them into a full SST."
Bender Shetler built off of her initial planning for the off-campus courses to create an SST schedule that would allow students to experience life on the Navajo and Hopi reservations.
"It's been a bit of a struggle to figure out how to work around the pandemic," she said. "[There are] just a lot of things we had assumed the students would be able to do that haven't been possible."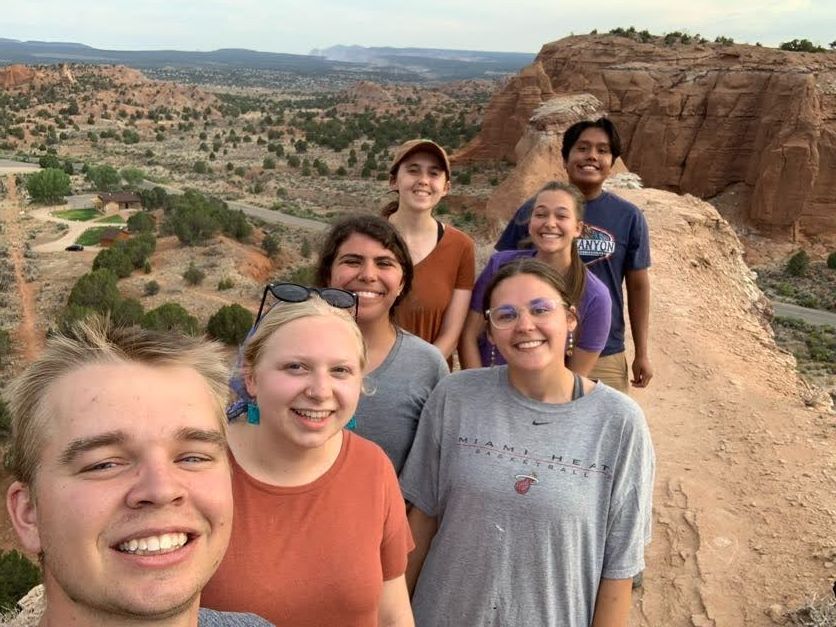 Learning and service
The "study" component of the new SST required students to take two classes, including a May term course on Native American cultures with SST leader David Lind and an online global issues course on Indigenous rights with Native American scholar Sarah Augustine. These courses highlighted the United States' history of racial discrimination against Indigenous people and allowed students to learn about the global context of Indigenous rights issues.
The 18 Goshen students began their travels on June 15, led by Lind and Yoder and accompanied by the three Yoder Lind children. The group's arrival at Black Mountain Mennonite Church in Navajo Nation — their home base for the next three weeks — was met with a warm welcome from Pastor Daniel Smiley and other church members.
During their time in Navajo, students learned about the Navajo language with local teacher Irene Bizahaloni, attended church camp at Black Mountain Mennonite Church, took a crash course in traditional pottery techniques from 1996 Goshen alum Mary Mitchell Trejo and spent three days living with Navajo host families.
Anna Smucker, a senior graphic design major from Goshen, was struck by her host family's hospitality and valued the time she spent in their home.
"I felt honored to be in a household with three generations of women who showed us nothing but patience, strength and kindness," she said.
Smucker was also able to do a lot of "listening and learning" during her stay with her host family.
"I remember being told a lot about the daily challenges that my host sister and mom faced over the years for being Native American," she said. "This definitely opened my eyes to issues that I was unaware of before and made me really check my privilege."
On July 4, the SST unit said their goodbyes to the members of Black Mountain Mennonite Church and traveled to the Hopi Peace Academic Center, where they would be staying for the remaining three weeks of SST.
The students began the "service" component of their time in Hopi by helping lead the summer math and reading camps at the Peace Academic Center. Here, students were able to interact with Hopi children through a variety of fun activities such as building boats out of tin foil and making shakers out of construction paper and rice.
Smucker had many impactful experiences while working at the math and reading camps, but one in particular stands out in her memory.
"A young girl, around 10 years old, was having a bad day," she said. "So I began talking to her and asking questions. Not long after this, she began telling me stories of her home life, her parents, friends and school experience. I was surprised that she felt so comfortable talking to me and opening up to someone who was honestly a complete stranger."
During their time on the Hopi reservation, SST students also had the opportunity to explore the natural world through visits to the Grand Canyon National Park and Kodachrome Basin State Park. Mariah Kaufman, a senior music and secondary education double major, found that her favorite SST experiences related to the "natural landscapes" that the group encountered.
"I fell in love with the desert in a way that I hadn't expected," she said. "It helped me to have a greater empathy for the sacredness of space and location that many Native Americans hold."
The students departed for home on July 23 after the last day of summer camp at the Peace Academic Center. Six weeks of learning and exploring had shifted several of the students' worldviews; Kaufman says that the experience redefined her definition of the word "serve."
"I was struck by the importance of aligning acts of service with services that are actually needed and desired rather than something that is easy or that looks and feels good to do," she said. "[Service] is an opportunity for people to connect with one another."
Moving forward, Bender Shetler hopes to make the Southwest Indigenous Perspectives SST a permanent unit.
"Depending on how our partners are reflecting on it, we do hope that it can be every other year or every third year… a regular rotation," she said. "We'll see!"