Yep, you got it, we're back! For all of you who forgot you were subscribed, get ready, we've got a new adventure coming your way!
After more than a year and half of Study-Service Term (SST) unit cancelations we are jump-starting things again here in Ecuador. On Tuesday, 6 brave students will find their way through O'hare, make it through customs and exit through the baggage claim doors into the brisk Quito evening air where we'll be waiting to welcome them.
A bit about us… Nina and I are excited to lead three Ecuador units during this upcoming 2021-22 school year.  We both graduated from Goshen College and I went on SST myself as a student to Nicaragua, while Nina did her study abroad programs here in Ecuador and Spain. The last several years I've been with the College in administrative roles, working both in the Admissions and Development offices. Nina had been serving as the Spanish teacher at Bethany Christian High School in Goshen until this year, when she started her masters degree in Latin American & Andean History at la Universidad Andina Simón Bolívar here in Quito.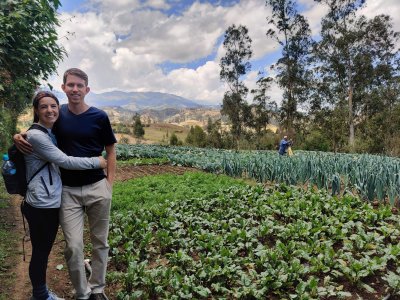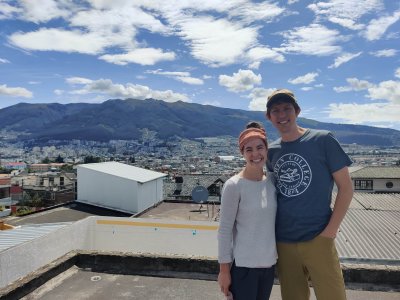 For those of you new to our program, SST Ecuador is an integrated cross-cultural program that offers Goshen College students an immersive learning experience in Ecuador. The 12-week course is divided into two sections: a 6-week study portion in Quito, Ecuador's Andean capital city; and a second 6-week, community service experience in Ecuador's provinces. During the program, students will participate in five academic and experiential courses, which will help them engage deeply with diverse aspects of their experience (language, family and community, history, and culture) and explore aspects of their identity and worldview.
2021 SST Student Learning Goals:
To function competently and collaboratively in cross-cultural contexts and relationships,
To analyze a critical global issue from interdisciplinary perspectives within systems of unequal power,
To gain proficiency in language and cross-cultural communication skills,
To engage in cultural analysis from a perspective of empathy and cultural humility,
To develop a personal sense of social responsibility in civic engagement,
To actively and critically reflect on one's own identity and position in the world.
Since arriving, our anticipation of the arrival of the first SST group has been inspiring and exciting!  We have been working hard to build new relationships with host families, teachers and service partners and other program collaborators. Maybe you saw that this spring we received a Grant from the US Dept. of State, and the last several months we have been putting that to good use developing relationships with old and new organizations all around the country where our students will be doing their volunteer placements / internships. Looking forward to it!
See you Tuesday!!
Caleb & Nina Longenecker-Fox