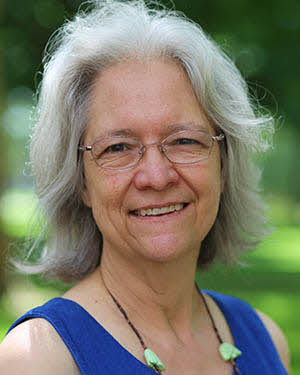 By Ann Hostetler, professor of English
Scripture: Psalm 25:1-10 (NRSV)
Psalm 25, attributed to David, is an acrostic poem in Hebrew, each line beginning with a letter of the Hebrew alphabet. Inspired by this form, I created an abecedarian poem in response, weaving in titles from the songs of Godspell. Through a reading of Psalm 25, I was deeply reminded that only our trust in a merciful, loving God can move us beyond panic to wise action in such distressing times. In this advent season, as we contemplate the theme of "freedom bound," let us honor those around the world who are fleeing terror and grant them hospitality in the spirit of our Lord.
Psalm for November 13, 2015
After Godspell I went home singing
Bless the Lord oh my soul
checked the computer,
discovered terrorist attacks in Paris
every where people crying out—I
feared the apocalypse.
God of goodness, how can such
hatred exist, children bearing bombs embedded
in their bodies, hoping to blast themselves to heaven?
Justice is complicated today,
kindness a luxury. Yet, the psalmist reminds:
Learn your lessons well, trust the
Merciful one, who does
Not count the sins of our youth against us.
Open our hearts to compassion,
Prepare the way of the Lord
Quiet our anguish
Restore our trust in you.
Save the people:
turn us from urge to
understanding, move us beyond
vengeance to wisdom.
We beseech Thee
x-tinguish our fear with
Your peace. Let us share it
zealously.
Scripture: Psalm 25:1-10 (NRSV)
To you, O Lord, I lift up my soul.

2O my God, in you I trust; do not let me be put to shame; do not let my enemies exult over me.

3Do not let those who wait for you be put to shame; let them be ashamed who are wantonly treacherous.

4Make me to know your ways, O Lord; teach me your paths.

5Lead me in your truth, and teach me, for you are the God of my salvation; for you I wait all day long.

6Be mindful of your mercy, O Lord, and of your steadfast love, for they have been from of old.

7Do not remember the sins of my youth or my transgressions; according to your steadfast love remember me, for your goodness' sake, O Lord!

8Good and upright is the Lord; therefore he instructs sinners in the way.

9He leads the humble in what is right, and teaches the humble his way.

10All the paths of the Lord are steadfast love and faithfulness, for those who keep his covenant and his decrees.