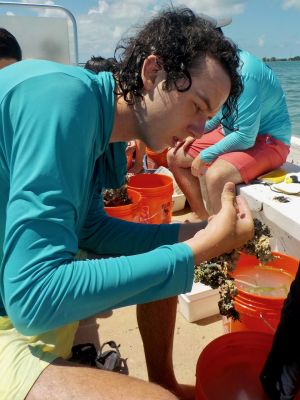 Thursday May 13, 2021
Like every other typical day here in the Florida Keys, it began with sunshine peeking through the curtains. One of my favorite things to do in the morning before hopping on the bus for lecture is watching the schools of Rainbow Parrotfish (Scarus guacamaia) swim about near the Marina. They are so vibrantly colored and the way they all swim together in search of grazing patch is always so mesmerizing, but of course I can't watch for too long because I can't miss the bus to head for lecture. Today we had guest speaker Dr. Jack Butler talk to us about a variety of topics including sponge restoration and underwater acoustics. Underwater acoustics refers to the sound scape within certain marine habitats such as hardbottom sites. 
Hardbottom sites are often dominated by sponges which are the homes of snapping shrimp. Snapping shrimp have a large claw that creates a fairly noticeable clicking or snapping sound in the water. Dr. Butler talked to us how these underwater acoustics may be very important for animal larva such as larval spiny lobster to find a suitable habitat as the presence of this soundscapes aids in indicating a healthy and productive site. 
After the lecture it was then time to head out into the field to the Triton Flat. Today we were collecting more data for not only my project but Madison Miller's 23' and Carolina Olivio's 23' projects as well. I believe this process of trying out different procedures for my project has helped me see what will and what may not work for when I truly start my project in the fall. We then had a lunch break which included some both funny and some philosophical commentary. After lunch we helped Jarrod Price 22' collect data for his project looking into seagrass substrate. After collecting data we did quite a bit exploring within the Triton Flats and swam with a large school of fish within the deeper areas of the site. 
Later that evening we had another guest lecture from Dr. Cindy Lewis who is the Director at Keys Marine Lab. Dr. Lewis talked to us about the Stony Coral Tissue Loss Disease and how it has taken a toll on corals within the Florida Reef track, most specifically looking at the toll it has taken on pillar coral (Dendrogyra cylindricus). Though there is still a lot of work to be done in terms of fighting this still quite unknown coral disease, it is quite amazing how impactful the work she and her colleagues have done on the corals within the Florida Reef track. It was quite an inspiring lecture that instilled a bit of hope for me in terms of coral reef restoration.
– Nick Davis '22 (Environmental & Marine Science)