Wednesday May 12, 2021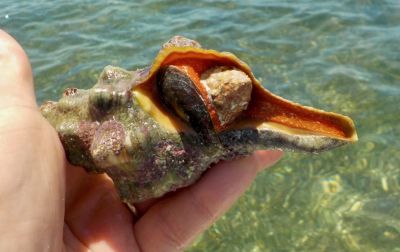 Today's schedule began again at Layton City Hall with lecture, this time paired with a message of hope for the potential role of Marine Protected Areas (MPA) and Marine Reserves in restoring marine ecosystems. Despite their limitations and the fact that these areas only collectively cover about 0.61% of the ocean floor, they have massive capabilities to restock fisheries, increase the biomass, density, size, and diversity of most species both within and outside of the area, and benefit human communities economically. While there are certainly still many things to figure out in terms of continued implementation and monitoring of these areas, know that good things are happening and look for ways to support them!
Post-lecture, we geared up (both literally and figuratively) for the field! Our fearless captain Dr. Sensenig again safely navigated us to Old Dan Bank mudflat where we tested out another round of senior thesis methods for Madison, Nick, and Carolina. First, Nick and Madison instructed us on how to use D-nets to sample quadrats for hermit crabs and Gastropods (snails). After sorting through our hauls we returned most of our new friends to the ocean and turned our attention to Carolina. Her focus was on Echinoderm abundance, more specifically the class Ophiuroidea (brittle stars), in relation to structural habitat complexity. This consisted of another round of sampling and sorting through sponges in search of brittle stars. After this we called it a day and headed home where the rest of our day was spent sharing stories from our snorkeling adventures, catching up on work, and enjoying a delicious spaghetti dinner together.
–  Leah Otto '22 (Environmental & Marine Science)