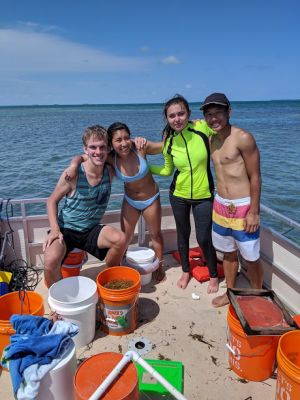 Tuesday May 7, 2019
Today was an exciting day as we completed our first research visits for our independent research projects! We started off our morning with a lecture by Goshen College alum and Marine Science graduate student Morgan Short '17. We learned all about fishes, which is the proper term to use when referring to multiple fish species. She taught us that fishes fall into two main groups, chondrichthyes and teleostomes, and went over various traits that fishes possess that aid them in their evolutionary goal to produce offspring.
After her lecture, we split into research groups and headed out to our various sites to gather data for our projects. While most groups used boats for transport, my group used kayaks to travel to our site so that we could more easily maneuver the mangroves that we are studying.
In the afternoon, we had another lecture on positive interactions and mutualisms. During this lecture, Hannah and I led a riveting activity which assigned each student to be an organism, and then charged them with finding the student with which they have a positive interaction. Everybody loved it! We then went out for our second research visit, but were forced to come in early due to thunder and lightning. Luckily, all students and research samples made it back to the research station without being struck by lightning. By that point it was time to make dinner, a process that also proved to be quite dangerous, as the fumes from a rogue jalapeño caused everyone in the building to break out into coughing fits. After surviving the jalapocalypse, we trekked to the lab for another lecture, this time on molluscs. Overall, it was an exciting day full of learning, data collection, and "peril".
– Abby Graber, Social Work '19
2019 Group Research Projects
Interactions between the growth of Thalassia testudinum and the presence of epiphyte grazers -Ariana Perez Diener, Hannah Myers, Lesly Rios-Mendoza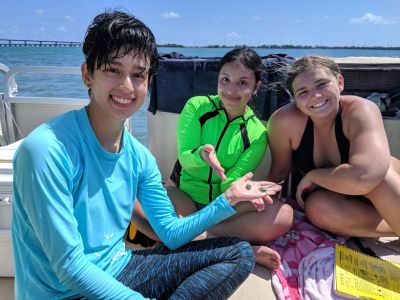 Relationship between density of Spheciospongia vesparium and Ircinia campana and total number of visible organisms in hard-bottom site – Alyssa Arella, Paul Drescher, Frank Gonzalez, Annelise Wiebe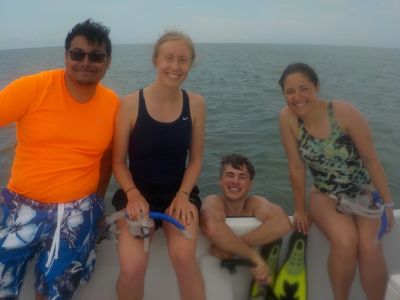 Effects of reduced mangrove canopy cover on benthic communities – Abigail Graber, Thomas Schlabach, Makena Zimmerman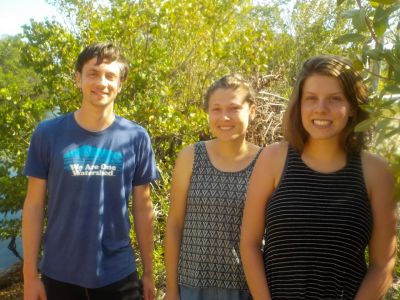 Correlation Between Portunus sayi and Histrio histrio Populations in Sargassum – Andrea Cruz Evangelista, Aidan Friesen, Lexus Garces, Brandon Nguyen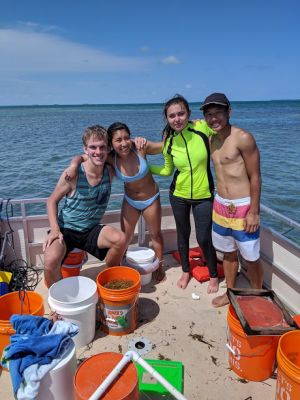 Ircinia campana and Spheciospongia vesparium as fish habitat in hard-bottom environments – Abby Hochstetler, Jenae Stutzman, Irving Suarez