After receiving breakfast from our host families in Colorado Springs, we braced ourselves for a long bus ride into New Mexico.  Our first stop would be to Santa Fe, about a five hour drive. While eventually we did all get tired of being on the bus, we were kept entertained by laughter and trivia contests from our morale officers. The trivia consisted of facts about Santa Fe and Albuquerque, as well as special trivia about Marcia's musical accomplishments.
When we finally arrived in Santa Fe, we were dropped off in the Santa Fe Plaza, and were free to roam about. My group went to get lunch at The Burrito Company, and enjoyed more southwestern style burritos and tacos. We then walked through many of the local artisan shops, and explored the Cathedral Basilica of Saint Francis of Assisi.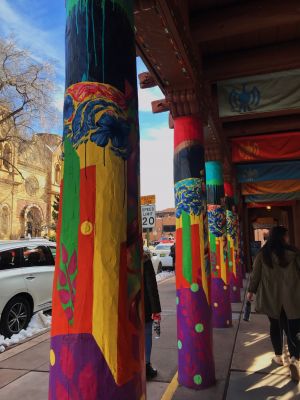 We then got back on the bus, and drove to Albuquerque, where we ate dinner at Albuquerque Mennonite Church. They served us a lovely dinner of haystacks, grapes, oranges, pie, and brownies. We then went down the street to the First Congregational United Church of Christ for our performance, and had some time to relax and rehearse. The concert went well, and the acoustics in the church helped us a lot, because at this point in the tour, we were all a little sleep deprived.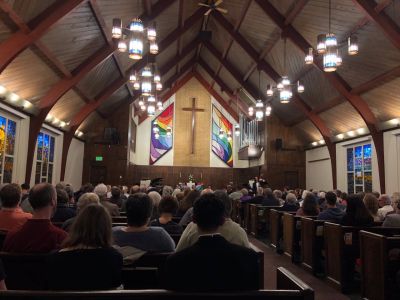 After the concert, we all were matched up with our host families, both from Albuquerque Mennonite church and the First Congregational United Church of Christ. I had the opportunity to stay in the Mennonite Mission Network service adventure unit house, visiting a friend from home who was there. We got to hear about their individual service projects, as well as all the adventures they had been on. We went to bed exhausted, but excited for all the things we have seen and all the adventures of the days to come.
-Emma Burton