Laura Hochstetler is the first student to write about our experience at Yachana Lodge and Foundation.  Here is her description of a night out in the jungle:
Upon hearing that we had the option to either go to bed or explore the rain forest in the dark, Lydia, my roommate, and I were faced with a tough decision. We must have been either incredibly dehydrated or delusional to think that two extra hours of sleep would trump a chance to see the incredible night life surrounding our lodge. Thankfully, we came to our senses, put our boots on and met up with Alfonso, our fabulous twenty-year old guide and the rest of the group. Our group was filled with many yappers (people who talk uncontrollably), yet we were able to see and identify many nocturnal animals.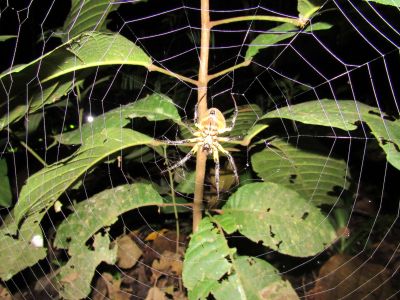 One of the first things we saw was a large spider called the golden silk spider with long legs and a yellow abdomen that had spun an incredible web. Later we saw another identical spider in the process of eating its supper. Alfonso found and identified grasshoppers, katydids and crickets and taught us how to distinguish between all three, which can be tricky due to the wider variety of species here than in the states. I was among the lucky three or four individuals who saw a nocturnal armadillo before it quickly tore away from us. It was one of the two armadillo species that is common in this region of the rainforest.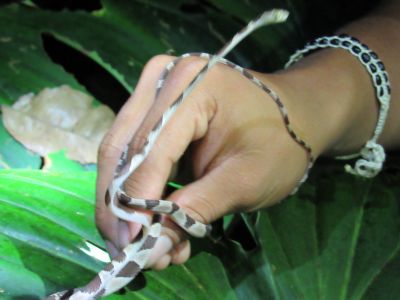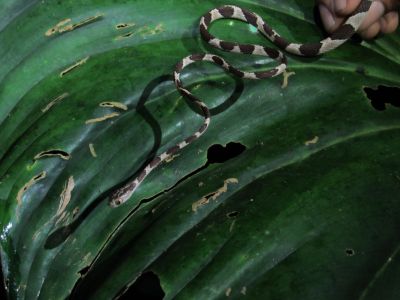 Towards the end of our hike Jerrell saw a small snake that was as thick as a pencil and very colorful, though not poisonous. I was amazed with the way it maneuvered through the foliage, hanging onto branches with its tail while making its path.
My favorite part of the hike was when Alfonso told us all to shut off our flashlights. There was some initial resistance within the group, but we eventually found ourselves immersed in complete darkness. I immediately became aware of all the sounds I had previously ignored while depending mostly on my eyesight to guide myself. We heard crickets, owls, frogs and many other animals, including the abnormally tame kinkajou that had been hanging around the lodge as an unofficial guest. Needless to say, Lydia and I made the right choice of evening activities.