As we continue to help Wilderness Wind prepare for the canoeing season, the list of tasks has gotten shorter and shorter.  At this point, we are counting down the hours until we can set out in a canoe.
Yesterday we went to Wilderness Wind's second campground, "Lakeside."  Lakeside is a small collection of cabins which Wilderness Wind rents to visitors, located almost a mile West on Lake Armstrong.
The lake was almost entirely covered with ice, with only a 40-foot wide channel between the shore and the ice.  Two loons were fishing just off the shoreline.
We arrived to unpack cabins, knock off any winter dust, and do some basic cleaning inside each of the cabins as well as the two-story yurt behind the cabins.  For the Lakeside area, any canoes that are available to guests are stored within the cabins during the winter.
Using a biodegradable mixture of vinegar and orange peels, we were able to make an all natural all-purpose cleaner for stovetops, counter spaces, and refrigerators.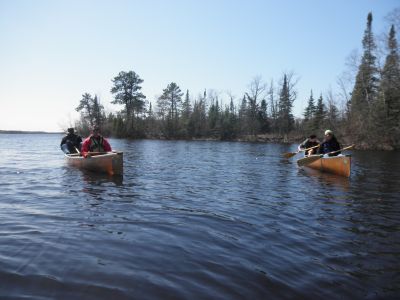 Once we finished at Lakeside, we went back to the main campground for lunch and suited up to practice canoeing on a windy lake.  Canoeing in a middle school pool is one thing, but a windy lake with two-foot waves was quite an adjustment.
Fall lake, which has a public access point, served as a great spot for us to practice paddling out to an island, turning around, and paddling back.  Each person from my group practiced being in the bow of the canoe and steering from the stern, practicing both c-strokes and j-strokes.
Back at camp, the evening was spent making super-smores, one of Val's concoctions of fire-melted Reese's cup candies and marshmallows on a graham cracker, and telling stories around the fire.  Surely there will be plenty of stories traded around fires over the next week as well.
This morning we all awoke with a shiver.  Until we put out on the water on Sunday, it is very likely to be extremely cold and could possibly snow between now and then–and in the uninsulated bunk house, each of us feel the cold.  After Sunday, however, the weather should be just perfect for our trip.
Today was a day for trailblazing.  My group was divided into two groups, and while one started from the North end of camp, my group started toward the bottom of the hill on Wilderness Wind's "Spirit Trail."
The Spirit Trail is designed to explain the entire history of the Earth, creation, and humans.  Little signs dangle from tree trunks at the trailhead, and the distance between signs on the trails signifies a period of time between events.
As we moved farther through the woods, the orange and blue ribbons that signaled where the trail led became harder to locate.  Eventually, some of us had to move through the brush to see where the next one was before planning out where to clear a trail.
We retraced our trails back for lunch, and headed to Ely's Wolf Museum for the afternoon.  Wolves have an interesting history of being treated as "vermin" by early farmers and losing a large portion of their population.
I always love learning about wolf and dog "pack" mentality, with the alpha male and female, and understanding the dynamics that are taking place between the pack.  There is so much more than what meets the eye, and every movement and posture of a wolf signifies its place in the pack.
In two days, my own pack will be heading out into the wilderness.  As we discussed "worst-case scenarios" this evening, I couldn't help but compare us to the wolf packs we just observed this afternoon.
Sure, there may end up being a hierarchy system by the end of it, but each of us will be looking out for each other.  I don't think there will be any scary situations, but if I am wrong I know that everyone will spring into action.
The pack is only as strong as the wolf, and the wolf is only as strong as the pack.  We may not be wolves, but I think each of us make for a strong pack.