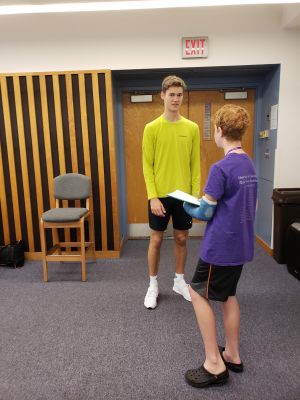 Simon Graber Miller, a 19-year-old Goshen native, has big plans for his future career at Goshen College. Simon joined Bethany's Track & Field team when he was in his last year of high school. Originally intending to sprint, his coach had other plans for him. Simon told the group, "My coach asked if I wanted to try high jumping and I decided to go for it. On my first attempt, I jumped 6 foot."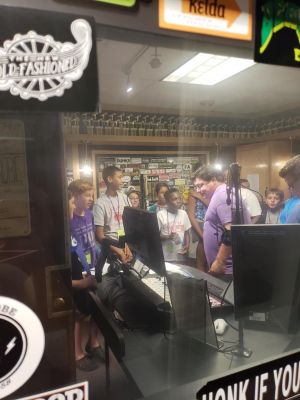 Simon visited Goshen's Write On Sports camp, on July 10th, 2018. The camp also got the opportunity to interview Kyle Mishler, Goshen College alumni and Goshen College's Track & Field Coach and Jason Samuel, Sports Writer and professor at Goshen College.
Currently, Mishler holds the school record at Goshen College for high jump with a jump of 6'8. Mishler will be Simon's head coach at Goshen, this in coming year, and both are very excited about it. "Kyle is going to be an amazing coach." Simon told the group. One of Simon's goals while competing at Goshen is that he will break Mishler's school record, with the help of Mishler's coaching.
Samuel, later after the interviews, took the camp on a tour around 91.1 The Globe's station. Everyone was invited into the station to look at the different awards and to see what it's like to work at The Globe. The children even got to hear the teachers practice their "radio voices" and to hear it on air. Samuel shed a lot of light on what it's like to work in a radio setting.