The campers of Goshen Write on Sports arrived early at Four Winds Field — three hours before game time.
They sat near the visitors dugout while the South Bend Cubs took batting practice, with the temperature around 90 degrees. Afterward, Donnie Dewees, an outfielder, came over for an interview.
When asked what the players do next, with two hours to spend before the game at 7 p.m., Dewees said, "We'll use PlayStation 4, maybe play Ping Pong, make smoothies. We all get along well. It's a fun environment to be in here at the ballpark."
Dewees disclosed that he would actually rather be playing in the infield that evening. "I always wanted to be a shortstop," he said, "but I'm lefthanded, so I'm stuck in the outfield."
Dewees, who batted third that evening, singled home the first run for the Cubs in the bottom of the first (but then was thrown out trying to steal second). In the fourth inning, Dewees reached first on an infield hit.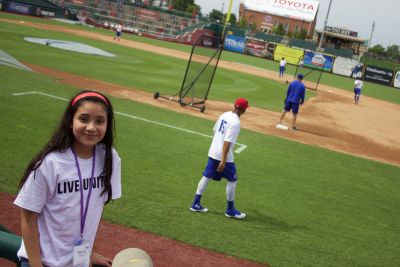 The other player the students interviewed, Carson Sands, a pitcher, had the night off.
Isaac Sawatzky and Andrew Graber were picked out of the crowd to participate in a Cubs tradition, "Brush the bases." They were introduced on the loudspeaker between the third and fourth innings and used giant toothbrushes to clean off second base (Isaac) and third base (Andrew).
With a 45-minute drive back to Goshen, the students left the ballpark after five and half innings, with the score tied 2-2. In the end, the Cubs lost to the Burlington Bees of Iowa, 7-5.