Farewell to Guatemala and Our Gracious Hosts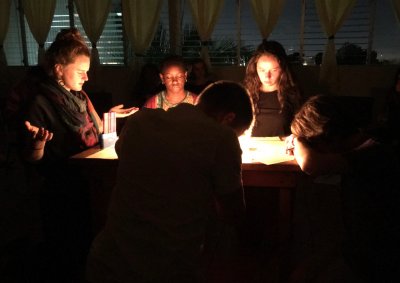 This evening we don't have time for a full blog (exhausted from lengthy and congested travel, as well as playing and packing), so this is just a brief farewell to Guatemala from the 2019 Study-Service Theology Term group. We arrived back at CASAS around 7:30 p.m. this evening after boat and bus rides home, had dinner and then marked our departure with a closing worship led by Brook and Joel. For the worship, we sang and then wrote about three things: 1) an expression of gratitude for our Guatemalan hosts and Guatemalan experience; 2) a question about Guatemala, or about faith, or about ourselves; and 3) a commitment we are making as we leave Guatemala. We were then able to take those sheets and place them on the candlelit table as a prayer offering. We closed worship with prayer for those in Guatemala who had made our experience so extraordinary.
At some point tomorrow, if traveling wifi allows, I'll try to post additional photos and texts chronicling our last evening worship in San Juan la Laguna and our Friday morning at Uxlabil hotel, hiking and visiting artisans around town.
For parents, especially, here's where we'll be the next few days: we leave CASAS for the airport at 9:15 a.m. Saturday, have a brief layover in Mexico City, and then arrive at O'Hare at 11 p.m. Saturday, Chicago time. We should make it back to Goshen's campus by about 3:30 or 4 a.m. Sunday. All day and evening Sunday will be committed to reorientation/debriefing, with additional reorientation happening Monday morning. Students will be free to leave by about 1 p.m. Monday afternoon, departing from the campus apartments rather than the dorms. Local parents are free to come at 1 p.m. Monday or after (talk with your children about preferences), and we'll take to the airport and train station all of those who are flying or training home.
Tonight we're all settled in for a much-needed rest.