Mini Tours and Exploring Lago Atitlan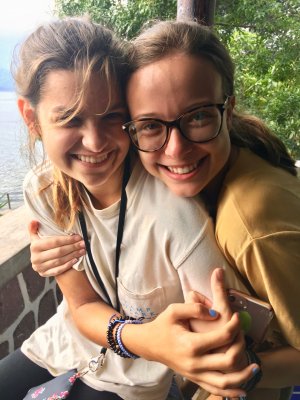 We began today with breakfast at Uxlabil Hotel overlooking Lago Atitlan (gorgeous) and then disbursed into various affinity groups for self-selected activities: an hour hike, kayaking, shopping, exploring the town and other activities. We regrouped around noon and then headed off in about nine tuk-tuks for lunch at a fair-trade coffee plantation and mini-tours of multiple cooperatives. With rather minimal wifi at our hotel, and with an electrical storm and two total power outages all around Lago Atitlan this evening, the photos included here took about four hours to upload!
The cooperatives included ones that produced coffee, honey from stinging and non-stinging bees, organic medicinal products, chocolate, weaving and paintings. Students purchased items from many of the cooperatives, which return about 85 percent of sales directly to the producers, keeping about 15 percent for administrative overhead for the cooperative itself.
This evening we headed off in multiple directions once again for dinner in San Juan la Laguna, though about half of the group decided to dine at the hotel. The Eyedart folks from Goshen – a media production company – have joined us for the full trip to do interviews and videography in preparation for various forms of media they will be creating for CASAS. This ensures that all 20 of the SSTTers will be really famous in short order.
Tomorrow morning we'll be doing more hiking (some will take a five-hour hike up and down one of the mountains), checking out the cooperatives and tiendas in town, and relaxing at the hotel, and then we will head back to CASAS in the afternoon for our last night at CASAS, packing, and having closing worship. Plans already are underway for reorientation/debriefing in Goshen all day Sunday and Monday morning, and students will head for home Monday afternoon. It's hard to believe we've been together for just over two weeks already, and many of us are lamenting the coming departure, though we're thoroughly enjoying our time together on this closing retreat.
Thanks again for joining us on the journey.