Adventures in Iximche and Around Lago Atitlan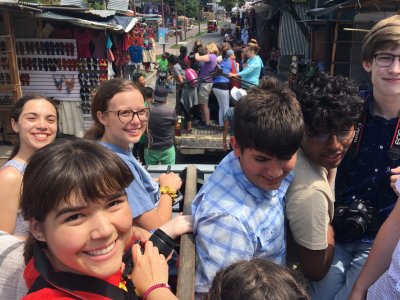 This morning we left the CASAS campus at 6 a.m. and headed out for Iximche, a Pre-Columbian Mesoamerican archaeological site in the western highlands of Guatemala. Iximche was the capital of the late postclassic Kaqchikel Maya kingdom from 1470 until its abandonment in 1524. Iximche was called Guatemala by the Spanish, from the Nahuatl Quauhtemallan, meaning "forested land." During the Guatemalan Civil War, a meeting took place at the ruins between guerillas and Maya leaders that resulted in the guerillas stating that they would defend indigenous rights.
We spent about an hour wandering the grounds at this incredible site, led by our guide Balaam, who has Mam and Kaqchikel indigenous heritage. We finished the tour by watching a fire ceremony, with about a dozen indigenous women participating in this ancient ritual on the holy grounds.
The visit to Iximche followed an excellent traditional breakfast at Fundacion Way'bi, which has a restaurant and hotel as well as guest rooms for children suffering from cancer. We toured the grounds there and went into one of the pod guest rooms, all created from earth and recycled materials. Very cool.
Last evening, before we left for this morning's trip, we met with Isra Ortiz and his spouse Rachel. Isra led the "Youth and the Fullness of Humanity" program last year for our 2018 SSTT group, but he was unavailable this year because he helped found a new political party (Semilla) and was in the last week of campaigning for a city council seat in the Mixco district of Guatemala City. It was wonderful to introduce him to the group.
We left Iximche in the later morning today to come to Panajachel, on the edge of Lago Atitlan, which is several hours west of Guatemala City. We went directly to two boats and came across the lake to Santiago, which was about 35 minutes across relatively rough waters. On land, we hopped into the back of two pickup trucks that had been arranged in advance, and headed off to ANADESA, an indigenous women's cooperative that is supported by Mennonite Central Committee. We had a delicious, paella-like lunch and then a presentation by leaders at ANADESA, which serves children, teenagers and their parents. We also saw the Parque de la Paz (Peace Park) dedicated to the memory of 13 people assassinated by government forces adjacent to the ANADESA building, including at least one five-year-old and a nine-year-old. Tragic.
From ANADESA we headed to the nearby Roman Catholic Church to see the Rev. Stanley Rother memorial. Originally from Oklahoma, Rother was killed in 1981 during Guatemala's 36-year civil war for sheltering his people in the church and otherwise speaking out against government violence. With another priest, he translated the New Testament into the local Tz'utujil language, and services at his church still are done in both Spanish and Tz'utujil. He was assassinated in his bedroom, which is now a memorial museum, and we heard a presentation there about his life and martyrdom and saw a bullet pock in the tile floor and remaining blood stains on the wall. Students made the connection with the martyrdom of El Salvadoran archbishop Oscar Romero since we had seen the "Romero" film last week.
From the church, we walked to the pier and caught our boats once again, then took another 20-minute trip across the lake to San Juan la Laguna, where we are staying at Hotel Uxlabil. We went out in groups of four for dinner tonight, and are now relaxing with cards and journaling in the open air dining area at the hotel.
We'll have free time to explore in the morning, and then we'll take mini-tours to see artisans, honey- and coffee-makers, weavers and other farmers and artisans. It's a good way to round out the SSTT experience.