Lament and Hope, Downtown Guatemala City, Worship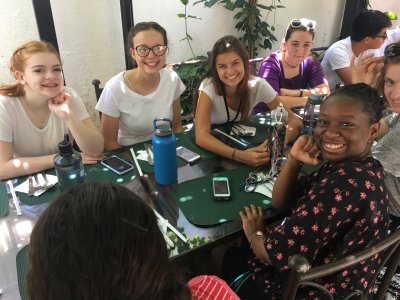 After our morning centering prayer — we're up to eight minutes of silence now! — we had a brief discussion about doing theology in Latin America using the hermeneutical circle, which consists of experiencing, seeing, judging in light of Scripture and then acting in the world, which creates a new experience to see, judge and act upon. That's one of the reasons we began our time in Guatemala with "seeing" through sociological, historical, economic and other social science lenses. We then moved into our "Youth and the Fullness of Humanity" sessions with Andrea and Mario. The session included a reading from Habakkuk 1-3 and attention to violence in our world, and lamenting that violence. Smaller groups of students read recent news articles about terrorist acts, mass shootings and other tragedies around the world, and reflected on those realities in light of Scripture.
We then headed to downtown Guatemala City so we could experience lunch at a local restaurant and then broke into groups to visit various sites. The National Palace is being repaired, so it wasn't available for a visit, but students visited the Metropolitan Cathedral and the Mercado, and some strolled down the scenic 6th Avenue. We also spent time in the Plaza de la Constitution, which in addition to a huge fountain has a shrine erected two years ago after the tragic death of 41 teen girls living in a girls' home. The girls were locked into their dormitories, and perished when a fire broke out. The shrine is a regular site for religious rituals in the plaza.
We returned to campus so some students could journal and others could take a run with Brook and Joel, ate a wonderful, Reina-cooked meal that included fruits we brought back from the mercado, and then had our first student-led worship service, with Emma, Emilia, Jacob and Lilly leading us in singing, rich discussions about our experiences thus far, and a group prayer.
Tomorrow is another full day. Thanks for joining us on the journey.