SSTT Orientation on Goshen College's Campus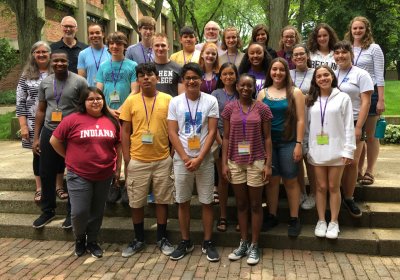 Today was a full day of orientation, beginning with breakfast and then worship and centering prayer led by Gwen, Brook and Joel, and then moving into discussion about the concept of pilgrimage and some initial journaling. Paul Keim, Bible and Religion professor at Goshen College, assisted with some orientation elements, and SST Director Tom Meyers spoke about the Study-Service Term, Goshen's semester-long international education program since 1968, and how that served as a model for the Study-Service Theology Term.
Other elements of the day included a kahoot quiz about Guatemalan history, politics and culture as well as some of the demographics of the SSTT group; a group photo with the full group, now that our last two students have arrived, and a Body of Christ exercise that worked with how our actions and interactions build up or tear down the Body of Christ. The latter activity functioned as a kind of group covenant of how we will relate with each other and our Guatemalan hosts. Later in the afternoon we did an identity circle, discussing some aspect of our identity with our peers, and then talked about health and safety in Guatemala as a full group and in gendered groups.
We finished the evening at the Graber Miller home, which is a short walk from campus. Brook and Joel organized a walk-a-mile activity for the walk, and an Indian meal from Maple Indian awaited the group when they arrived. After dinner and ice cream from The Chief, Goshen's premiere ice cream shop, we took boat rides on the Graber Miller pontoon and some students canoed. SSTTers finished the evening with a movie back on campus.
Tomorrow (Friday) is another day of orientation, and then we'll prepare to leave for Guatemala Saturday morning! Thanks for joining us on the journey.