Service visits in Cuzco: Emily, Maddie and Alex
Monday – Wednesday, Oct. 31 – Nov. 2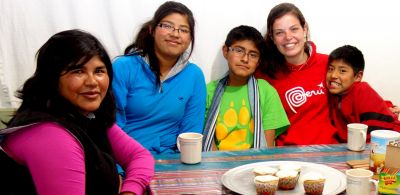 Cuzco, the high Andean city where the group's journey to Machu Picchu began, is also the service location for three students.  We began our visit with the service location of Emily, an American Sign Language major who is assisting teachers in classes for deaf children.  Her school, Don Jose de Martin, was built only 2 years ago and has the best facilities of any school in Peru for deaf students.  Emily alternates between teaching 2 different classrooms of students, one of elementary-aged students and one of students aged 10-14.  Later we visited Emily's home, where she lives with Gloria (a nurse), Mauricio, and their 3 children on one of the hillside communities at the edge of the Cuzco valley.
On Monday we had lunch with Maddie and her family, which includes her parents, Francisca and Rolando, and their adult son Cristian.  They work with missionaries and have a wood-working shop in their home.  Later we saw Maddie's work at the local office of World Vision.  They have a well-known child sponsorship program, which includes sponsors sending letters in English to sponsored children in the Cuzco area.  Each day Maddie translates those letters – lots of those letters – from English to Spanish.
The third student working in Cuzco is Alex, with whom we had a wonderful breakfast of banana pancakes on Tuesday at the home of his parents, Margarita and Cesar, and their two children, Ana and Agustin.  This was on the national holiday El Dia de los Muertos, so we could stay and chat a long time.  The next day we visited Alex's service location, the private Mennonite school La Promesa.  Alex teaches music (the recorder) and English classes to several different grades.  Mennonite families we stayed with earlier in Lucre and Huarcarpay send their children to this school in Cuzco.