The first service visits in Ayacucho: Rachel and Alex
Wednesday and Thursday, Oct. 26-27.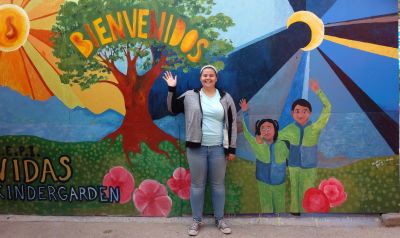 Doug and Maria's first trip to visit students at their service locations was to the city of Ayacucho, high in the Andean mountains at an elevation of about 9,000 feet above sea level (and about a 10-hour overnight bus ride from Lima).  Four students are doing service in Ayacucho or nearby; in this blog post we'll share our visits with Rachel and Alex, and tomorrow we'll share our visits with Tim and John.
Our first stop was at Rachel's home for lunch (chicken, potatoes, sweet potatoes and Lima beans) with her mother and little brother.  Rachel says that her mother, Nieves, who works in a stall at the market, knows everyone in town.  During lunch we were joined by Nieves' aunt, who speaks Quechua, the indigenous language descended from the Incas.
After lunch we walked with Rachel to her service location, Getsemani, and after-school program run by an Assemblies of God congregation.  Rachel teaches English and plays games with the children, who also receive lunch and devotions at the church.
In the evening we went to the home of Alex for supper with her family.  Alex's mother, Lidia, who owns and runs a restaurant at the edge of town, prepared a delicious meal of chaufa, a Peruvian Chinese rice dish.  Alex's father, Oscar, works as a security guard.
In the morning we met Alex at Kinder Vidas, a private pre-school.  Alex teaches English to the children, who are also taught Quechua at the school.  In Incan language is often the only language spoken by elder Andeans, somewhat by the next generation, but is not being learned by most of the young today.