Lea and Micah: Serving in Cusco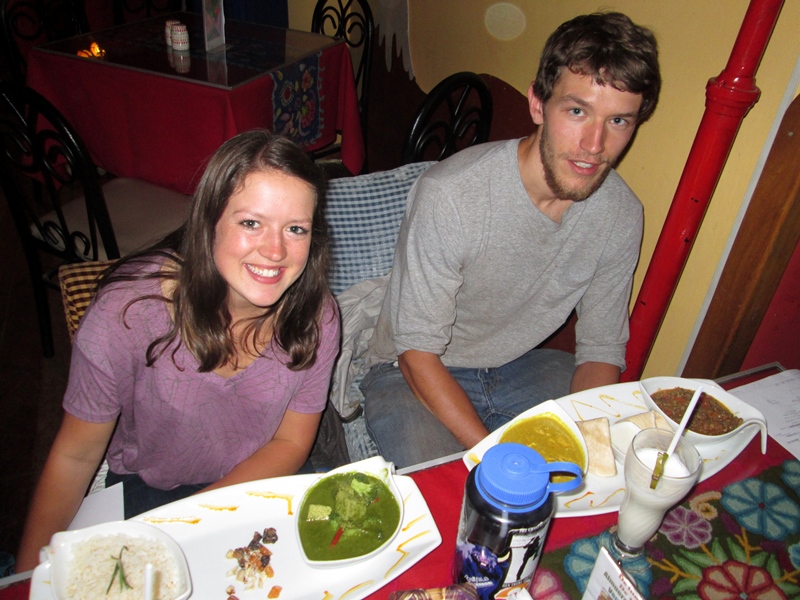 By Karen and Duane Sherer Stoltzfus
Peru SST Co-Directors, 2014-2015
When Lea and Micah joined us for supper near the Plaza de Armas, or central park, in Cusco, it was the first time they had seen each other two weeks into their service stay. While both of them are based in the Cusco area, they are in many ways at opposite ends of this sprawling city.
To get to Micah's house and place of work in Lucre, we took two buses and a collectivo taxi. The trip takes about an hour and a half. Lucre is a kind of suburban outpost of Cusco, tucked away among green hills and beside a river that makes possible a dozen or more trout farms, each with a menu and tables in the shade.
Micah is helping his extended family to build their own trout farm, which will serve as an important source of income. Right now the family has about 10,000 baby trout, each the size of a pinkie finger, swimming in two pools. In about half a year, the trout will be ready to eat. The family hopes to have a small restaurant in place by then.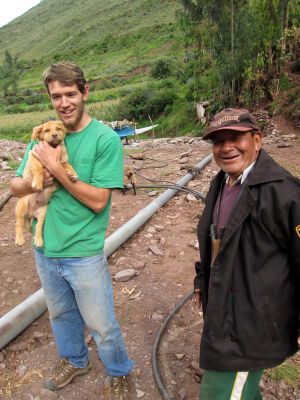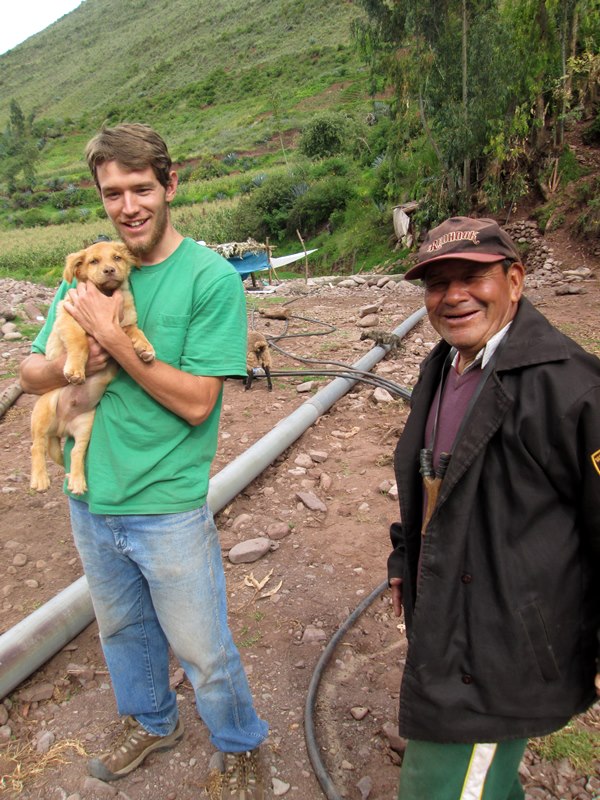 Micah lives with Margarita Carlos, a nurse; her son, Jerod, 10; and her parents. During the day, when Margarita leaves to work at a medical clinic,  Micah joins her brothers, Bernardino and Guido, at the trout farm.
He also is helping Margarita to control weeds at her young peach farm. Micah appears to have good timing. Margarita expects to be able to make peach jam and ice cream for a peach festival shortly before he returns to Lima.
During his free time, Micah has climbed several hills near his home, once seeing a puma track. As a student of physics with an engineer's touch,  he also is deeply interested in helping his family take advantage of the hydro power potential in the nearby river. When we left Cusco, he was thinking on this.
"I couldn't ask for a better place to work," he said.
Meanwhile, Lea is working at World Vision, an international organization that focuses on the health and well-being of children and the communities that support them. World Vision links sponsors from the U.S., Australia and other countries with children in the Cusco region.
Lea, who learned Spanish through a school immersion program, helps to translate cards and track correspondence that is sent back and forth.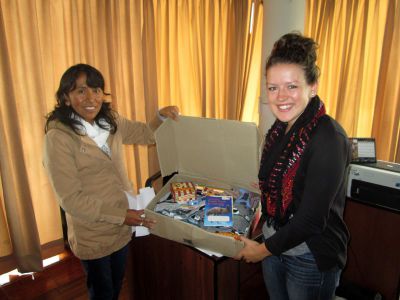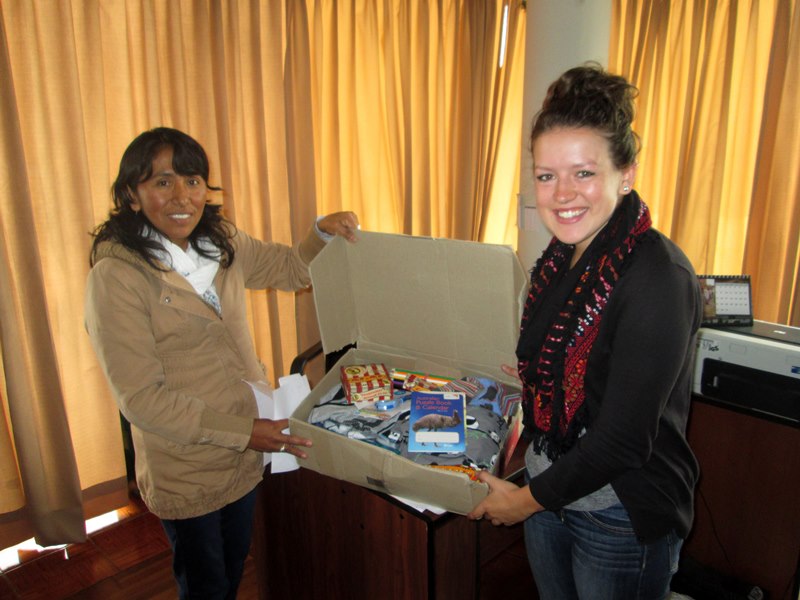 For example, a sponsor in Indiana may send a card with this message: "I hope you're celebrating your 10th birthday in style. You're now in the double-digits."
Lea will need to translate the message into Spanish for a child who likely speaks Spanish and Quechua. "I'm using a lot of subjunctive — Ana and Moisés would be proud," she said, referring to Ana Bracamonte and Moisés Arce, our Spanish professors in Lima.
She is also serving as a member of a World Vision team that travels into outlying communities to work directly with children, delivering cards and health care kits. Her first trip was expected to be to the Andean town of Ccatca, situated several hours from Cusco.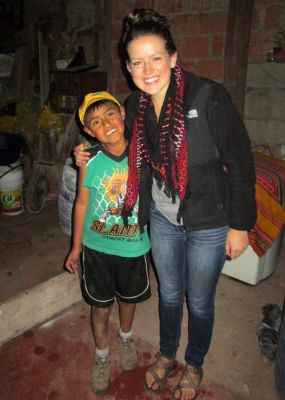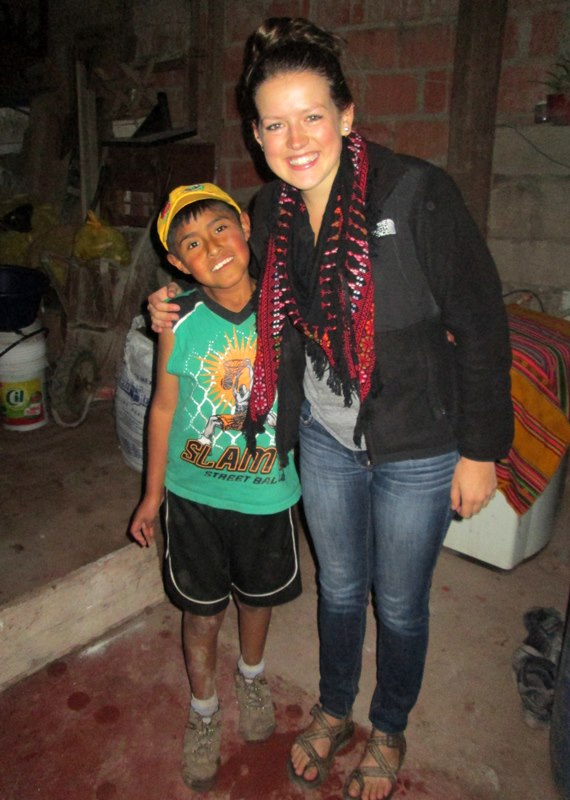 One day after work we joined Lea in taking a bus to her host home, climbing up a hillside. After the bus ride, we still had a steep hike to reach the home of Gloria and Mauricio Mamani. They have three children: Mabel, 15; Benji, 10; and Jhonaton, 7. Gloria is a member of the praise band at the San Jeronimo Mennonite Church and works as a medical caregiver on behalf of the church; and Mauricio is an independent contractor. The house also contains several well-loved pets, including a rabbit, two ducks and several chickens.
Gloria and Mauricio are deeply committed to being ambassadors for Christ. Soon after we sat down to a meal of semolina soup and fried yucca, we heard a knock at the door. A neighbor woman and her daughter, who are new believers, came in, unannounced. Without hesitation, Gloria and Mauricio brought out more bowls.