Christian and Maria: Serving in Tarma
By Karen and Duane Sherer Stoltzfus
Peru SST Co-Directors, 2014-2015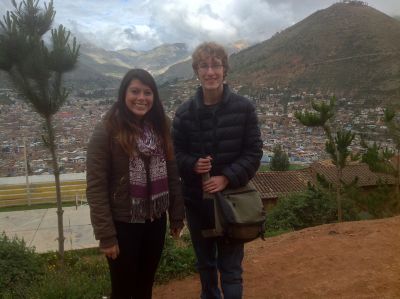 The morning after we arrived in Tarma, we found ourselves standing in the Fe y Alegria  school yard with Christian and Maria, part of a large circle of students, teachers, parents and administrators who were starting off the new school year on a playful note in the light rain.
A teacher called out the movements for all of us to follow, which at one point included standing pigeon-toed, knees touching, bent over at the waist, tongues out — and then hopping on one foot. In that moment there was no fear of math or English vocabulary.
Soon enough, Sister Patricia Day, the director of the school and a member of the Sisters of St. Joseph congregation, a Catholic order dedicated to education, made clear that serious work of scholarship was about to begin.  She told students, dressed in red and blue uniforms, that they need to arrive promptly for class each day.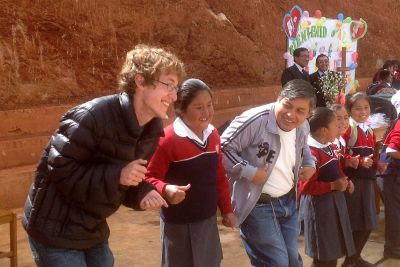 Turning to parents, she said that they must insist that their children do homework. "Siempre motivar y animar," she said to the parents, underscoring the importance of motivation and encouragement.
When we visited the next day, Christian and Maria were assigned to classes, Christian in the second grade (with Profesora Lila) and Maria in the fourth (with Profesor Edi). They may do some rotating. In the first two weeks of service, before classes began, they were called on to organize school storage rooms.  "They did a fantastic job," Sister Patricia said.
Fe y Alegria, part of a network of 80 in Peru and more than 2,000 such schools across Central and South America, provides quality education for students from poor families. Fe y Alegria schools are established and run by members of Catholic orders and partially funded by the government. Tarma's well-run school is situated on a hillside overlooking the city.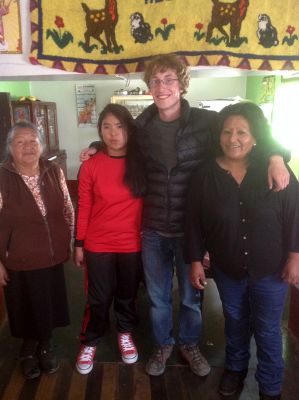 We also visited with Maria's and Christian's families. We had a light supper in Maria's home, meeting her host parents, Deyadira and Abraham Bañon, and host sister Isabel, 10. Adrian, 17, was away. As it happened, our hostel, El Dorado, was on the same street, just a few doors down, from Maria's home. The Bañon family has hosted many Goshen students.
The next day we enjoyed lunch with Christian's family, Rocio Valverde, his host mother. We also met his host grandmother, America, and sister, Carolina, 15. Stefani, 18, was away.
Interestingly enough, both Christian and Maria happened to each take 15 books to read on service. Christian was in the middle of reading Ulysses, with the Brothers Karamazov pending; Maria had recently finished Great Expectations, with War and Peace pending. For the record, they were both also reading the assigned texts, Lost City Radio and American Chica.
They share a love of reading, and apparently a sweet tooth as well. On the evening before we left, we went to their favorite bakery for dessert and talked for an hour and a half over chocolate mousse and other treats of the house.
Tarma is a delightful city of about 60,000 residents located in a fertile valley about 3,053 meters, or 10,016 feet, above sea level in the Andes.  Because of its spring-like weather and natural beauty, the city was nicknamed the "Pearl of the Andes" by Antonio Raimondi, an Italian-born scientist and university professor who traveled widely through Peru in the 19th century. Tarma has chilly nights and mostly sunny days (even during this, the rainy season) for enjoying the beautiful scenery and charming, narrow streets.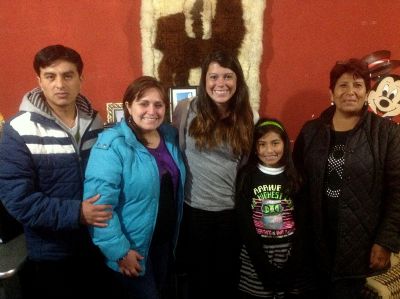 Tarma also is referred to as the City of Flowers; flowers grown here are shipped to Lima and elsewhere and also are used during huge religious observances. Maria and Christian are a little disappointed that they are returning to Lima early during Holy Week, narrowly missing a chance to see residents make elaborate designs from flower petals on the streets, carpeting the city with color.