Crossing the Sacred Valley: Ollantaytambo
By Karen and Duane Sherer Stoltzfus
Peru SST Co-Directors, 2014-2015
More than 500 years ago, Ollantaytambo served as an important rest stop and administrative and religious center for the Incas. For our group, it proved to be a perfect place to stop after visiting the Incan sites at Chinchero and Moray and before spending a day at Machu Picchu.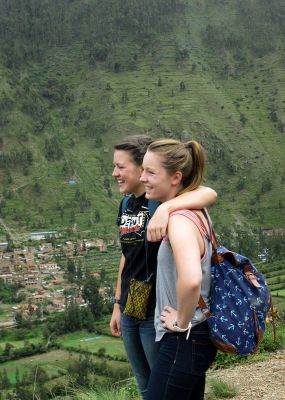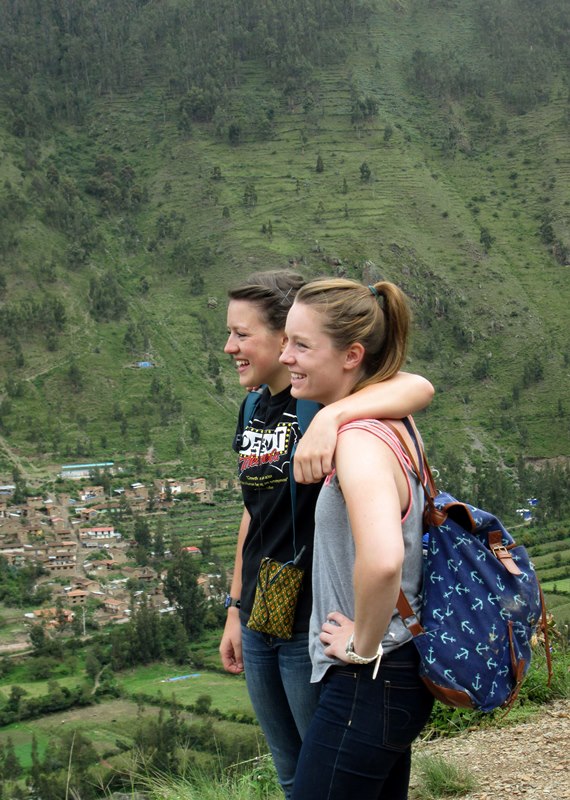 It's an enviable rest stop (and a 90-minute train ride from the town of Aguas Calientes, from which you can climb or take a bus to Machu Picchu). The weather is warmer here than in most of the Andes due to its relatively low elevation (2,800 meters, or about 9,186 feet) and placement in a protected valley.
Wherever you walk, along narrow cobblestone streets, you hear the sound of water; whether from the river that runs along the half-mile road that leads to the train station, or from the mountain water that runs through the curbside, rock-lined channels of the residential quarters.
Tuesday morning, after a substantial breakfast, Amadeo led us first on a challenging climb to see the colcas, or storage houses, that the Incas placed high above town, an ideal setting in which to preserve corn and potatoes and alpaca jerky.
We could see agricultural terraces spread all over the hillsides below us, taking advantage of micro climates in which to grow different varieties of crops. Peru, the land of the first potato, has developed more than 500 varieties of potatoes and 200 varieties of corn.
Later that morning we climbed the huge fortress (Temple Hill) that overlooks the town, a fortress fashioned by Inca leaders as a defense against invaders and a place for rest and religious observance in the center of what local people call the Sacred Valley. Although unfinished, the stonework is impressive.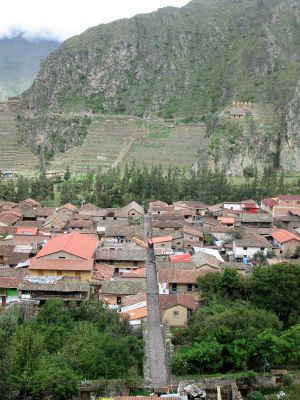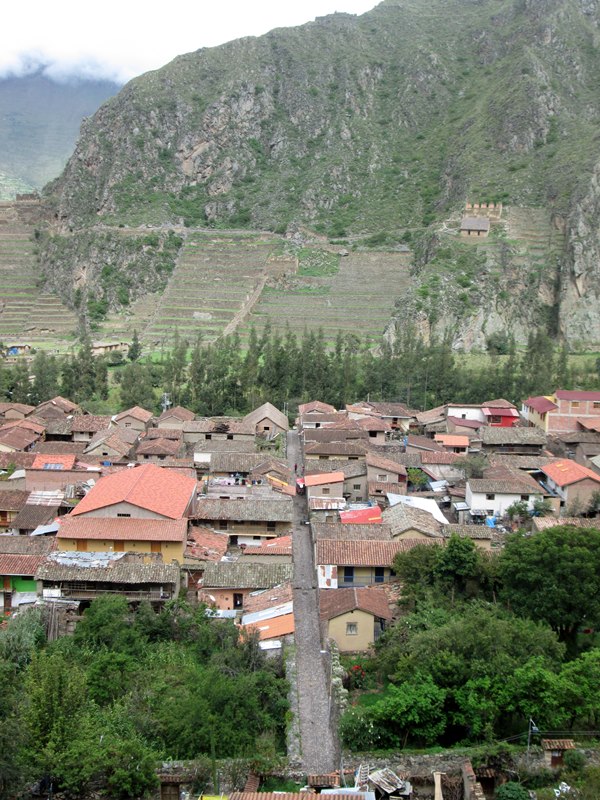 Amadeo noted that the rock for the walls was quarried from a mountainside six kilometers away, each block pulled by rope across makeshift rollers of wood or small stones. The arrival of the Spaniards ended the work, prematurely. He showed us a mighty rock, resting alone, that never made it to a wall.
After lunch, we made our way to the train station to catch our train to Aguas Calientes, the town at the base of Machu Picchu. Once there, students were given money to purchase a picnic lunch for their day at Machu Picchu.
We met later in the evening for a cozy supper together in a menu restaurant. Following the meal, we sang happy birthday to Courtney who would be celebrating her 20th birthday the next day at Machu Picchu.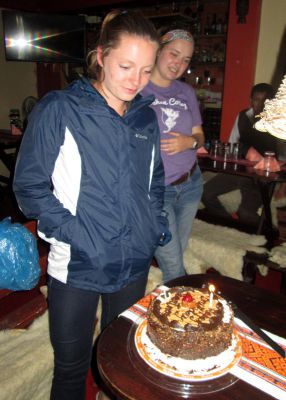 Amadeo had purchased the chocolate cake from a bakery in Cusco that morning and we wanted to eat it while it was fresh. Indeed, sharing the cake signaled the start to Courtney's birthday as most of us went back to our hostal to get a good night's sleep before an early wake-up call the next morning!