Learning about Lima's first residents
Goshen College students got a view into Peru's ancient past with a visit to Huaca Pucllana, a complex of adobe pyramids that was once an administrative and religious center of the ancient Lima Culture people. They dominated coastal Peru from 200 to 700 A.D. The site, located in the city's upscale Miraflores district, includes a large reconstructed pyramid of clay and adobe bricks, and surrounding structures. The tour includes scenes with figures representing the people who worked and worshipped here. A small museum includes ceramics and textiles and explanations of the significance and contributions of the Lima culture.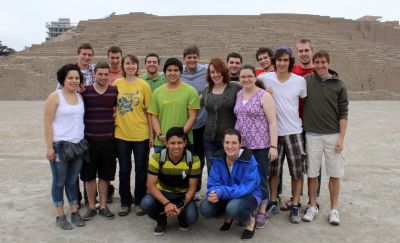 Students toured the site, which is three blocks from the Anglican Cathedral of the Good Shepherd (Buen Pastor), where our lectures and Spanish lessons take place. Students learned that Huaca Pucllana was built and used between the years 400 and 700 AD. The present six-acre site is only a fraction of a larger complex dedicated to a female divinity associated with the sea and its resources. Later, the site was used for burials and other ceremonies by other cultures, including the Wari people. Today, skyscrapers surround the site, and archeologists believe the modern buildings, roads and sidewalks were built on top of more ancient ruins.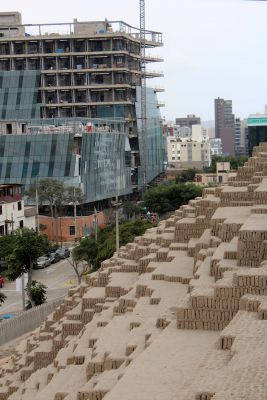 In our lectures we learned that the Spaniards chose this spot on the coast for their capital city partly because it was already settled and had irrigation canals and agriculture. Lima is dotted with Huacas similar to this one, in various stages of excavation and restoration.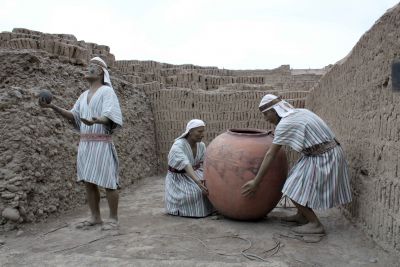 Most visitors to Peru seeking to learn about pre-Columbian civilizations usually head directly to Machu Picchu, the Inca's 15th-century mountaintop city, which is considered among the greatest artistic, architectural and land use achievements in the world.  Although no other Peruvian site can match Machu Picchu, Lima also has much to offer visitors about pre-Conquest history.  As James Higgins, author of "Lima, A Cultural History," has pointed out, Lima has some of Peru's oldest settlements as well as the finest collections of artifacts from indigenous civilizations that flourished long before the Inca. "The history of the Lima area stretches back, in short, to the very origins of civilization in Peru," Higgins wrote.