The Sacred Valley: The heart of the Inca empire
The Peru SST group spent two days exploring Peru's Sacred Valley with help from Oswaldo Palomino Alvarado, an experienced guide proud of his indigenous heritage.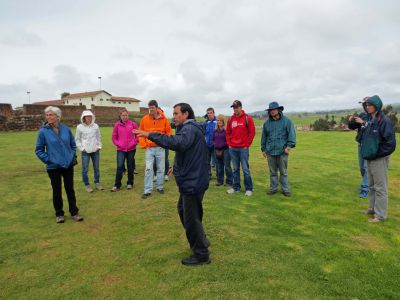 We began our tour at Chinchero, where Inca royalty once sat on stone thrones to observe festivals and gazed upon terraced hillsides. Framed by the lush Vilcanota Mountains, Chincero retains the charm of a small village and features both Inca ruins and colonial structures. Students learned how artisans dye yarn for alpaca weavings, enjoyed a lunch of Peruvian specialties and visited a colorful Sunday market.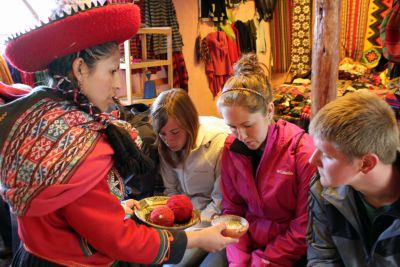 Afterward, students visited Moray, an ancient agricultural laboratory with stunning circular designs. The circular faming terraces varied in depth and circumference, which allowed Inca farmers to test a variety of crops in distinct micro-climates. Late in the day we arrived in the town of Ollantaytambo, where people still live in stone houses built centuries ago by their Inca ancestors and walk on cobblestone streets with water flowing in canals along the side, just as in Inca times.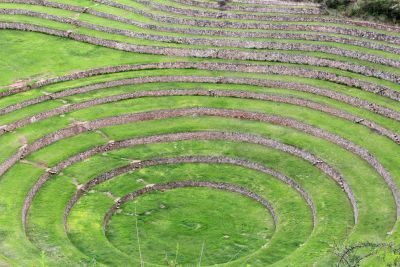 The next day, we explored Ollantaytambo, climbing to Inca storehouses on a steep mountainside and then to the great Inca fortress, religious, farming and administrative complex. Ollantaytambo also was the site of great battle between Inca warriors and Spanish conquistadors. We enjoyed spectacular views throughout the day.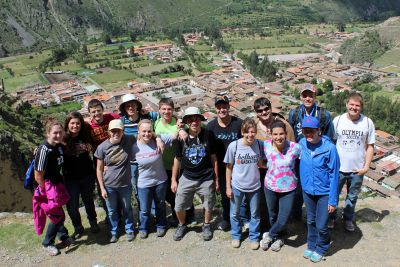 Late in the afternoon, we took a PeruRail train through the Urubamba River valley, dropping in altitude and watching a roaring river and beautiful scenery as mountain terrain give way to high jungle. By early evening, we arrived in the bustling town of Aguas Calientes – our jumping off point for our visit to Machu Picchu the next day.