Wonders of the Inca past and present
During their journey to Cusco, the Sacred Valley and Machu Picchu, Goshen College students viewed soaring mountain peaks, lush valleys, magnificent rock formations and surging rivers. They learned about the Spanish conquest of the Inca, the importance of arts and culture and contemporary issues facing Peru. One typically busy day, they experienced fascinating aspects of life in the Andes through a tour of Inca ruins, a meal of cuy (guinea pig) and participation in a ceremony led by a shaman with ancestral ties to indigenous spirituality.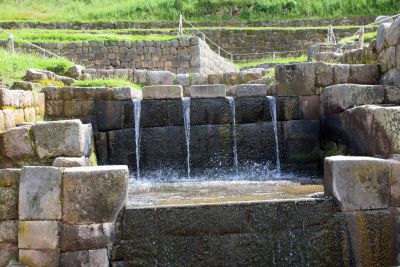 Our first stop of the day was Tipón, a 500-acre complex of hillside terraces, stone stairways, water channels and waterfalls built by the Inca as an agricultural laboratory and a royal and spiritual retreat. Located about 14 miles east of Cusco, Tipón is the largest and most complete hydraulic system built by the Inca. It also featured other hillside ruins, beautiful meadows and steep trails which students eagerly explored.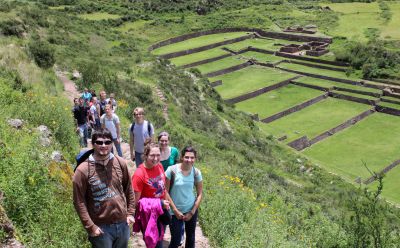 National Geographic has named Tipón as one of the top 10 Inca ruins to visit because of the integration of architecture with its natural surroundings and its "beautiful stone structures akin to those at Machu Picchu." The American Society of Civil Engineers has stated that Tipón "represents great mastery of irrigation and hydraulic technology. The civil engineers of Tipón designed buildings, 13 integrated central terraces, waterworks, hundreds of other terraces and massive structures to be visually and functionally harmonious with their surroundings." Perhaps most impressive off all, the intricate water channels still function five centuries after the Spanish conquest.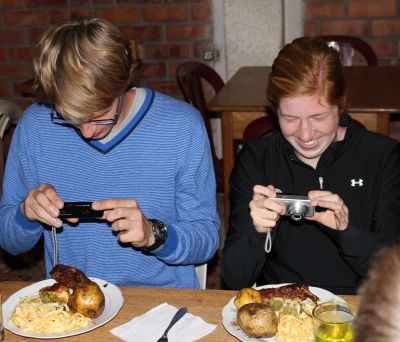 After hours of climbing and exploring, we returned to the nearby community of Tipón, whose municipal culinary specialty is serving meals of cuy (guinea pig). There are at least six restaurants that feature fried or oven-cooked meals with the little critter, which originated in the Andes. While they may be beloved pets in North America, cuy are considered a delicacy in Peru and often are served at Andean weddings and other important celebrations. Colonial-era paintings of Da Vinci's Last Supper hanging in the cathedral in Cusco and a monastery in Lima actually depict Christ and his apostles enjoying a platter of cuy.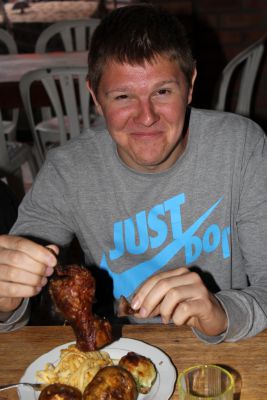 Eating cuy has become a rite of passage during Peru SST – an experience not to be missed, though not always enjoyed, by students. We ate at Restaurante Cuyeria La Escondida, which served cuy, potatoes, and pasta and featured large printed verses of the Ten Commandments on the walls. Students described the oven-roasted cuy as tasting closer to rabbit or wild game than chicken. Most were happy to have tried cuy, but no students asked for seconds.
We concluded the day with a spiritual ceremony at Pikillaqta, a pre-Incan citadel built of stone slabs and earthen mortar. Built during the Wari culture, from 500 to 800 A.D., Pikillaqta features a large rectangular structure with many rooms, some small and some large enclosures and compounds. It also served as an appropriate location for our gathering with Basilio Samata, a shaman whose father and grandfather also practiced traditional Andean healings and performed blessing and thanksgiving ceremonies. Samata prepared a colorful bundle of native and artificial materials as an offering to Pachamama, or mother earth. While preparing it, he asked students to pray for their needs and then blessed each one of them. While he is a practicing Christian, Samata also holds to his indigenous beliefs, which is common among people in the Andes.