Hannah and Kendall are serving in the city of Huanta:  Population = 84,000, Elevation = 2,624 meters (8,609 feet) above sea level.  The valley where Huanta is situated is unusually green, featuring a wide variety of vegetation and earning it the nickname "Emerald of the Andes."  The climate is sunny and dry, with cool mornings and hot afternoons.  Huanta feels more like a small town than a growing city.  The population swelled during the 1980s and 90s as people fled the countryside to escape the conflict between the Shining Path terrorists and government soldiers.  Huanta continues to grow as people seek paid employment, better schools and the conveniences of urban life.  The streets buzz with the sound of moto-taxis and the main market features products from the rain forest as well as the highlands.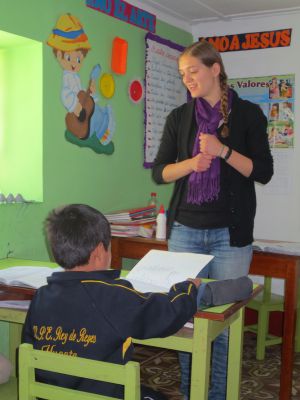 Hannah teaches English to elementary school children at Colegio Rey de Reyes (King of Kings School).  The school was founded recently with support from the Assembly of God Church and 25 children have enrolled so far.  Class sizes are small and the teachers are attempting to offer an alternative education based on Christian values.  Kendall teaches English to several classes of elementary school children at Colegio San Ramon (St. Ramon School), a public school that serves hundreds of children in the neighborhood where he lives.  The school is well-established and the teachers were excited to have a native English speaker helping them during language instruction.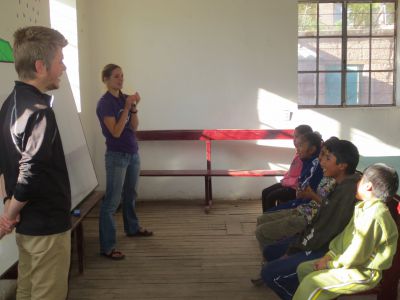 In the afternoons, Kendall and Hannah work together at an after-school program organized by Iglesia Evangelica Presbyteriana y Reformada en el Peru — Cristo Rey (Christ the King Reformed Presbyterian Evangelical Church of Peru).  They teach English on certain days of the week and music on other days.  Each session ends with a game of volleyball, basketball or, more recently, kick ball in the outdoor court adjacent to the church building.  Kendall's dry sense of humor and Hannah's enthusiastic attitude have helped them relate to the children at school and at church and, in turn, provided the children with a different model of what it means to be a North American.