Excitement mixed with sadness permeated the air at Casa Goshen.  The students had two hours to pack up their belongings, making sure their suitcases weighed in at just under 50 pounds.  We shared a final dinner prepared by Glicerio, Alicia's son-in-law, who was trained in culinary arts at the Marriot Hotel in Miraflores — the strips of beef melted in our mouths and the maracuya (passion fruit) juice tingled our tongues.  Celia, our study coordinator, and several host families dropped by to say goodbye.  Then, in groups of twos and fours, the students lugged their suitcases down the three sets of stairs to the courtyard below and wheeled them over to the waiting bus.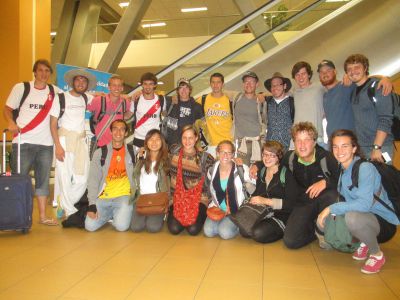 We conversed quietly among ourselves during our ride to the airport.  We spent several hours waiting in line and getting checked in at the ticket counter.  Then the moment came for the directors' family to say goodbye to the "grown ups" they have come to know so well over these last 90 days.
Blessings to each of you — Oscar, Quinn, Barrett, Isaac, Emma, Joe, Jieun, Martin, Alex, Edgar, Kolton, Cortney, Jesse, Mandy, Phil, Kate, Liz, Andrew and Jacob — as you return to your home, family and friends.
Together we have discovered how the world is changing, how Peru is changing and, indeed, how we ourselves are changing.  In the days and years to come we trust that you will continue to make changes — positive ones — in your communities and in our world.
Don't be afraid to be different.  Remember that new wine requires new wine skins.  Don't be afraid to wander in the desert.  Hold onto what you know is true.  Lean into your faith and your faith community.  And never forget the people you met here and what it was like to live on the other side of the world.
With love from Peru — Jerrell, Jane, Sierra, Naomi, Teresa and Jordan