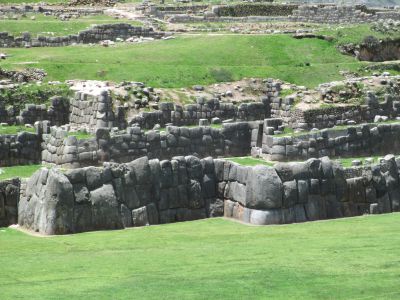 In the Inca world, lightning connects three realms — the heavens (home of the condor), the earth (home of the puma) and the underworld (home of the serpent).  Seen from above, the archaeological site known as Sacsayhuaman takes the shape of a lightning bolt, in triplicate.  This was a religious site, a place where rituals and celebrations were conducted.  Soon after the Spanish marched on horseback into Cusco, it became a battleground littered by the bodies of Inca soldiers.  The corpses were far too numerous to bury before the vultures arrived — Sacsayhuaman means "stuffed falcon" in Quechua.
Today, thousands of people gather here each June to celebrate the winter solstice.  And hundreds of thousands visit each year to see this magnificent example of Inca engineering.  Huge stones, the largest weighing 120 tons, fit together like pieces of a complex jigsaw puzzle.  No mortar or fastening devices were used here — only patient cracking, grinding, sanding, lifting and placing of one stone against another — a marvel indeed!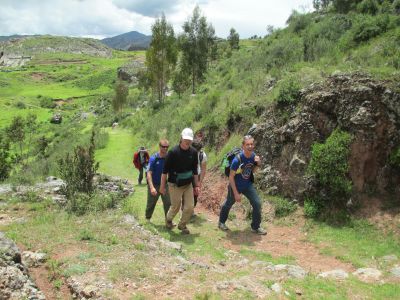 Our trusted guide, Oswaldo, suggested that on this particular occasion we leave the bus behind at Sacsayhuaman and travel on foot to another religious site, Qenqo, followed by a picnic lunch in an open meadow and a return to San Sebastian, near our program headquarters, via a ten kilometer walking trail.  This group of students is especially adventurous — and especially fit.  So we accepted the challenge, laced up our boots and disappeared from the world of cars, motors and electricity for the rest of the day.
It is hard to believe that a place which so resembles the ancient world of yesteryear still exists within walking distance of Cusco, a city of 400,000 inhabitants.  But, of course, it does exist.  And, indeed, our students relished the chance to follow a stream down a long winding canyon.  We passed potato fields, adobe houses and shepherds with their sheep before finally returning to the modern world.  Cars, buses, trains and airplanes are great when you want to travel fast.  But if you really want to get to know a place, there's nothing like putting one foot in front of the other and opening up your eyes and your ears.