Diversity, Drums and the Northern Cone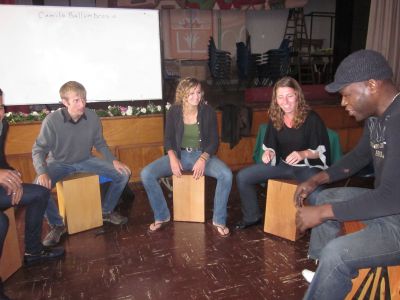 Eduardo Arroyo is an authority on ethnic diversity.  In a provocative lecture entitled, "The Cholification of Peru," he described the major ethnic groups — andinos from the mountains, criollos descended from the Spanish and cholos from the mountains who have migrated to Lima.  These and many smaller groups comprise Peru's population of 30 million people.
Camilo Ballumbrosio is a well-known musician with afro-peruvian roots and a favorite SST workshop leader.  He described how the slaves brought here from Africa several centuries ago were initially prohibited from drumming and dancing.  The cajon, a rectangular wooden instrument that resembles a box, was adapted from the packing crates common on the plantations and was less conspicuous than a typical drum.  In the 1950s descendents of these slaves began popularizing this percussion instrument, straddling it like a horse and playing it with open hands.  Camilo's enthusiasm for making music was contagious as he invited small groups of students to give the instrument a try.
In past semesters we have visited the southern and eastern cones, the local names for the recently-constructed settlements that surround the city of Lima.  But, as far as we know, Goshen College students have never ventured into the Northern Cone … until now.  Jherlly Acosta, our service coordinator, arranged a visit for us to a children's center supported by the Anglican Church in the seventh zone of the district of Comas, about an hour and a half from our program's headquarters.  The name of the neighborhood, Colli, is derived from a Quechua word meaning, "suffered much, but survived."
Jherlly's mother, Edith, directs an educational program at the children's center that provides activities — lunch, Bible stories, help with homework — to children whose parents are too busy or impoverished to take care of them after school.  Our visit began with a riveting talk by Jherlly's father, Jerry, about the rise of the Shining Path terrorist movement in his hometown of Tingo Maria, deep in the mountains, in the 1980s.
The talk was followed with a chance for us to assist with several renovation projects, including fixing a roof, repairing a set of tables and painting the meeting hall.  The day ended with the arrival of a group of school children, one last chance for the students to interact with young, eager children before leaving Lima for their six-week service assignments.