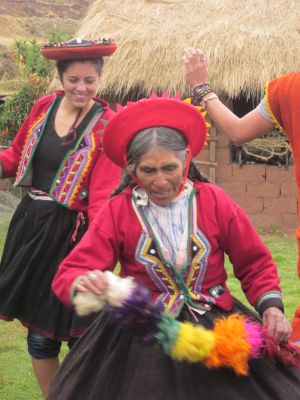 Spring has arrived in the Southern Hemisphere.  Up in the mountains, flowers are in bloom and grasses are changing from gold to green.  Insects are emerging, birds are singing and sheep are grazing in the midday sunshine.
Visitors to Peru typically travel to places like the Sacred Valley of the Incas by bus or car.  Many rural Peruvians, by contrast, journey from place to place on foot.  We decided to find out what it's like to venture off the beaten track by walking — trekking — from the village of Tauca to a little-known Andean community known as Huchuy Qosqo (Little Cusco).
Our ten kilometer (6.2 mile) hike began with a long ascent of a mountain pass.  At the top of Hatun Cruz (Great Cross) we found ourselves nearly breathless, enchanted by the view of snow-capped mountains in the distance and affected by the thin air at 14,042 feet above sea level.
We gladly descended for the rest of the afternoon, taking in a diverse array of cactus and flowering plants as we slowly made our way to the Casa Vivencial (rustic lodge) where owners Nati and Silverio awaited us.  There were sparkles in our eyes and an air of accomplishment in our voices as the students recounted the day-long journey that brought us up one side of the mountain and down, down, down to this community perched high above the Sacred Valley.
We feasted on roasted corn kernels, boiled potatoes, beef and chicken skewers and all the mate (herbal tea) we could drink.  In the morning Nati's mother met us at the door of the lodge and showed us her wares.  Grandma raises the sheep, sheers the wool, dyes it with natural colors, spins the yarn and weaves beautiful belts and table runners.  And she dances too…
For the record, here are the elevations and distances:
Start:  Village of Tauca — 3,700 meters (12,139 feet) above sea level
Highest Point:  Hatun Cruz Pass —  4,280 meters (14,042 feet) above sea level — 5 kilometers (3.1 miles) from the start
Overnight:  Huchuy Qosqo — 3,350 meters (10,991 feet) above sea level — 10 kilometers (6.2 miles) from the start
Finish:  Town of Lamay — 2,860 meters (9,383 feet) above sea level — 14 kilometers (8.7 miles) from the start