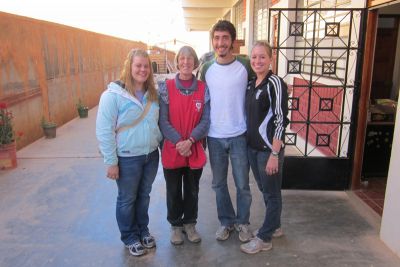 Tucked in the mountains and surrounded by fields of flowers, Tarma is known as the "Pearl of the Andes." That moniker may be a little grandiose for this unassuming town of about 52,000 residents, but it certainly communicates the warmth and welcoming nature of this central highlands town.
Three SSTers, Kayla, Caleb, and Mara, are working at the Fe y Alegría school (Faith and Hope) in Tarma, which is part of a network of more than 2,000 Catholic schools in South America that provides quality education for low-income students. The school, which is high on a mountain overlooking the town, has only been open for a few years and is supported by the Sisters of Saint Joseph.
Kayla has been working as a teachers' aide in several different classrooms, helping students with their assignments and teaching English to the older classes.
Mara and Caleb are helping out with the school's new integrated environmental program that aims to educate students and the community about the environment as well as provide some income-generating opportunities for the school. What this means for Mara and Caleb is a lot of time in the garden, where they have been planting, weeding, and watering plants. They have also been helping out with projects in the office, and Caleb has helped with the school's computer classes, as well.
All three are enjoying getting to know their host families and taking the time to explore this gem of a town.