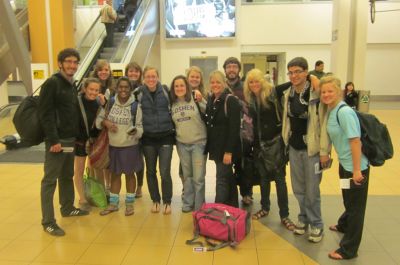 The summer Peru Study-Service Term concluded this morning with a pre-dawn bus ride to Lima's Jorge Chavez International Airport for 13 students. The remaining three are heading on to further travel in South and Central America before returning home.
For the Gary family, this is the end of Peru SST, too. We have led the last three units and have called Lima home for the past year. Tonight we'll also be departing from Jorge Chavez International Airport. We are sad to leave, excited to be back, and grateful for the many wonderful people we have met and places we have seen this year. In particular, we have been blessed with students whose abundant enthusiasm, flexibility, and good humor have helped to make our experience here so extraordinary.
At our closing retreat we sent the students off with the following prayer. As they—and we, and you, and all of us—prepare for the next great adventure in life (whatever it may be) let us together pray:
Lord Jesus, you traveled with the two disciples after the resurrection and set their hearts on fire with your grace. Travel also with us and gladden our hearts with your presence.
We know Lord, that we are pilgrims on this earth, seeking the citizenship which is in heaven. During our journey surround us with your holy angels and keep us safe from seen and unseen dangers. Grant that we may carry out our plans and fulfill our expectations according to your will. Help us to see the beauty of creation and to comprehend the wonder of your truth in all things. For you are the way, the truth, and the life, and to you we give thanks, praise, and glory forever. Amen.
Goshen: We'll see you soon. Perú: Te amamos!
—Kevin, Heather, Evie, Lucas, and Gabriel Gary