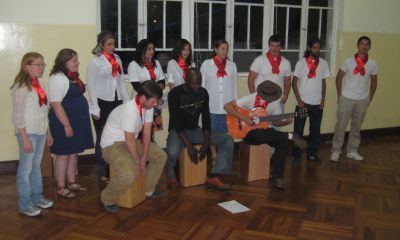 The SSTers' farewell to Lima was, as several commented, "sappy"—a mix of sad and happy. Sad to say goodbye to our gracious host families here, our Goshen friends, an exciting city, and the first half of our semester in Peru–but happy to go explore new places, meet new people, and find out what the "service" part of the term has in store.
We celebrated our host families, language instructors, and several others at our going-away party, the despedida. Each student demonstrated exceptional skill at public speaking in Spanish with a short tribute to his or her host family, and the SSTers (who early on were convinced this group was "not really musical") treated everyone to some excellent music, including a cajon recital by Paul, Derek, Caleb, Mike, and their maestro, Camilo; a trumpet solo by Derek; an a cappella duet by Serena and Erin; an original song written by Nate in honor of his Lima neighborhood and performed by Nate, Mike, Derek, and Caleb. The entire group performed "As I went down to the river" and "Contigo Peru"—making the case that they are indeed "really musical."
We presented our host families with friendship bracelets made by Kim and Serena, took lots of photos of our Lima family and friends, and finished off the evening with some delicious desserts created by Serena, Sara, Hannah, and Lauren.