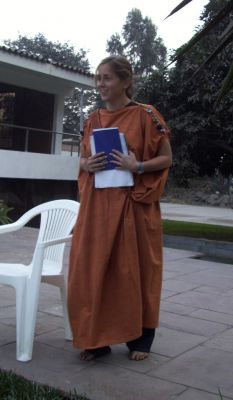 We finished the semester with a retreat in Chosica, a town nestled in the foothills at the edge of Lima known for its sunny climate.  We spent time getting reacquainted and learning about each student's research project.  Topics included:
Peruvian Business:  The People and the Practices
Plants and Animals of Mancos
From the Market to the Table
Culture and Fishing in Azulis
There is More to Italians that Spaghetti and Lasagna (Italian Dance)
Stories and Legends of the Yanesha Community
Educating Chimbote's Future
Souvenirs:  Traditional vs. Touristy
Yanesha Community Economics:  Azulis
Waste Management:  Trash Collection/Recycling
Subsistence and Poverty Reduction
The Wonderful World of Aj

í
Regional Variation in Peruvian Cuisine
The Peruvian Perception of Magic
After the presentations we spend time celebrating birthdays, worshiping, evaluating the service assignments and discussing re-entry into North American culture.