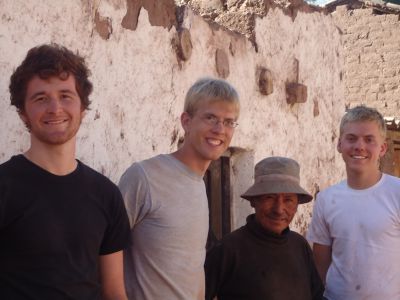 Three students — Allen, Seth and Simon — are serving in the Cusco area.  Four days of constant rain last January caused unprecedented flooding in the river valleys near the ancient capital of the Inca empire.  Countless homes and businesses were destroyed in the villages of Lucre, Huacarpay and elsewhere.
Pastors and members of the Mennonite Church in nearby San Jeronimo are hosting our students and organizing clean-up and reconstruction projects in the affected areas.  On some days the students dismantle ruined adobe walls.  On other days they build simple roofed structures out of Eucalyptus poles and corrugated roofing.  On the day we visited they were helping to build a wall out of concrete and rock to replace the adobe enclosure that protected chickens, guinea pigs and firewood before the flood.
The work is challenging but rewarding, a chance to make a small difference in the lives of those affected by weather patterns that people here attribute to climate change.  The students offer their muscle, their time and something more — a visible demonstration of our love for those who live out here on the margins.