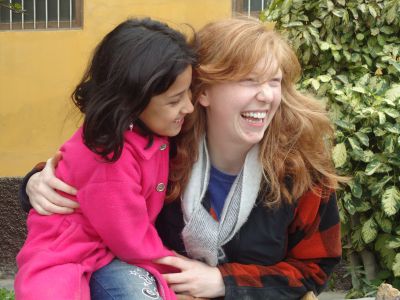 Three students — Ellie, David and Taylor — are serving in the city of Chimbote on Peru's north coast.  All three are working with Los Amigos, the volunteer organization established by Father Jack and Sister Peggy to help address the causes and consequences of poverty in this port city.
Ellie spends her days with children, playing with four-year-olds at the Our Lady of Perpetual Relief Parish preschool program, tutoring math with older kids at a library nearby and assisting with an after-school program that offers young people an alternative to gangs and drugs.
David works with Ellie and other volunteers in the gang-prevention program, as well as working on several garden projects and teaching English in the evenings.  His students range in age from 16 to 50 and are eager to learn as  much as they can.
Taylor helps out with art classes several times a week, a great supplement to the traditional education system.  She also puts her videography skills to good use.  She recently created, filmed and produced a three-minute clip that features the work of other volunteers and will soon be posted on the Los Amigos website.