Experiential Learning, Part 3: Gaia Estates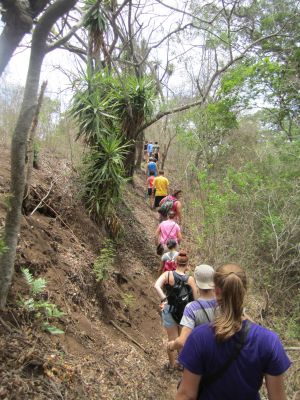 Our final excursion last week was a trip to Gaia Estates, an organic coffee and certified bird-friendly farm located outside of Diriamba. This 90-acre farm run by Jefferson Shriver grows coffee beans as well as vanilla beans, avocados, zapote and cinnamon. Gaia Estates is a true organic farm in that no chemical pesticides or fungicides are used in the production of the crops, and conservation of the land is a high priority for the owners. Jefferson took us on an hour-long hike around the farm, showing us the products in their natural environment. Jefferson also explained the idea of agroforestry to the students: the farm benefits from combining different trees and shrubs with crops. The use of agroforestry allows the farm to be more diverse, productive, and sustainable.
In addition to crops, the farm's bird-friendly certification draws bird-watchers from around the world. Because the farm has three layers of tree canopy, it creates an ideal environment for a large variety of birds, including many migratory varieties from the United States and Canada. With over 100 different bird species identified on the property, it is a bird watcher's paradise. At the end of the tour we could purchase recently-roasted coffee, so perhaps some of you will sample this when the students return to the States.