Day Trip and Movie/Birthday Night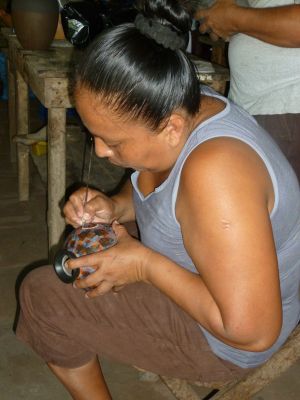 Friday's field trip took us first to San Juan de Oriente, a small artisan village, where we we were welcomed into the home and workshop of local potter Juan Paulino. Juan and his family have been producing pottery in San Juan de Oriente for generations. Juan carefully walked the students through the labor-intensive three-day process of making pottery, giving them a chance to feel the materials and tools he uses. We learned that improved machinery has changed and enhanced the process, but traditional practices are still in use as well, such as using bicycle spokes for etching the design into the pottery or creating a paint brush from the hair on a baby girl's head and a Bic pen. Juan also shared how his involvement with Esperanza en Acción, a fair trade organization based in Managua, has improved his ability to make a living and support his family.
The group then moved on to the colonial city of Granada. As the oldest European-founded city in Nicaragua, Granada gave the students a view into the past with historical artifacts such as the home of William Walker and a statue of Spanish conquistador Francisco Hernández de Córdoba (for whom the Nicaraguan currency is named). The city also showed a bit more of the touristy side of Nicaragua in contrast to the everyday realities of life at home with their host families.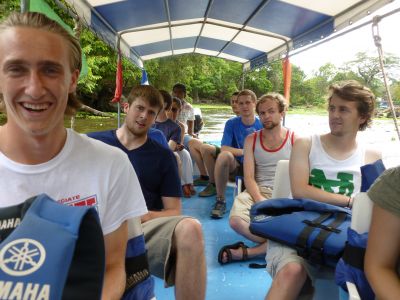 Granada's location on the shore of Lake Cocibolca (also known as Lake Nicaragua) also afforded us a boat tour of some of the 365 isletas (small islands) that were formed when the now-dormant volcano Mombacho literally blew its top, and most of its cone landed in the lake. Approximately 300 of these once-public islands were sold off during the Chamorro presidency, and many now host lavish vacation homes or restaurants. At one particular island, the students fed mangoes to Lucy, the resident monkey who takes fruit from the hands of visitors. Not to worry, though: all hands of the students are still intact!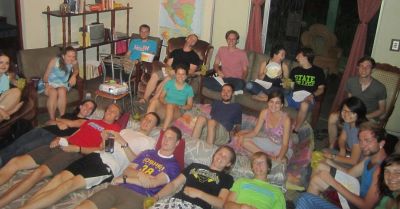 Our weekend ended with a movie night at Casa Goshen, where we gathered to watch Under Fire, a Hollywood dramatization of the assassination of journalist Bill Stewart and the events leading up to the 1979 overthrow of the Somoza dictatorship. While the film took great liberties with subplots (and wasn't what we would call awrd-winning material), it did offer students a visual representation of events they have been reading, hearing and learning about in lectures and discussions over these past two weeks.
The gathering also gave us a chance to celebrate the birthdays of Kara, Ashley, and Martin with what has become a tradition of our Nicaragua SSTs – a rich, gooey, and very chocolaty homemade ice cream cake!
Jen and Lisa